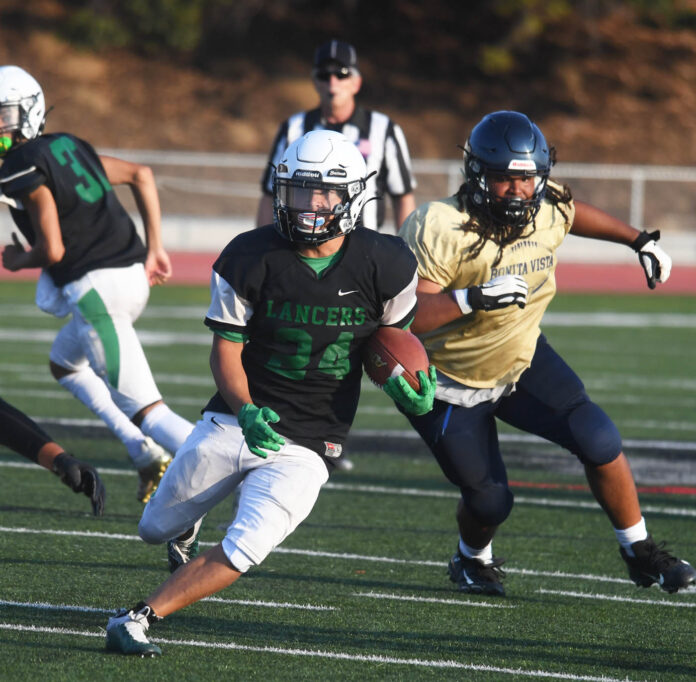 The 2021 high school football season kicked off Aug. 12 for the Bonita Vista Barons and Hilltop Lancers with a scrimmage contest on the latter team's field.
Both teams got the opportunity to shake off some dust, get out on the field and show their respective coaches what they were capable of following two weeks of training camp. Competition against a live opponent apart from intra-squad matchups was key at this point of the season.
Foremost, it served as a learning experience.
The format was divided into several parts, opening with punting (four punts without a rush with the punt team able to run their lanes and cover) and field goal kicking (four attempts without a rush) before proceeding into a game-simulated scrimmage.
The scrimmage was further broken down into 30 plays (15 for each team) with their No. 1 string on the field, 30 plays with their Nos. 2-3 units. The first string returned to the field to run a limited number of plays before the scrimmage ended.
Teams started at the 50-yard line. Advancing the ball to the 30-yard line allowed teams to have four downs (instead of three) to get a first down.
Bonita Vista scored five touchdowns.
Dante Scott, Malosi Iuli and Dante Hererro all moved the pigskin over the goal line while
Tabari Taper-Rodriguez and Damian Flores both recorded interceptions on defense.
BV senior kicker/punter Julian Acosta impressed those on the sideline with both the commanding length of his field goal attempts as well as accuracy.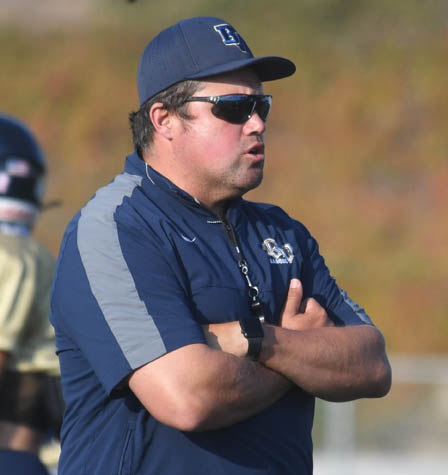 A little bit of feistiness by both squads demonstrated how close they were to starting the regular season – and games that count in the divisional rankings and conference/league standings.
Both coaches assessed their respective team's performance.
"We had some long breakaway plays but have a lot of room for improvement," BV coach Tyler Arciaga said. "I thought we played hard on both sides of the ball. I was pleased with our pass defense and our quick game passing on offense. I thought we could use a little more push from our lines and just continuing to learn our assignments (all positions). We also need to cut down on foolish penalties. That is one of my biggest priorities for this season."
"Defensively we need to make sure of our alignment and assignments," Hilltop coach Bryan Wagner said. "We need to tackle better. Offensively, the offensive line needs to complete assignments by staying on blocks. We have to be more aggressive at the point of attack."
Both teams hope to take what they learned from the scrimmage into Friday's season openers. Bonita Vista will host the Morse Tigers in a non-league game at Southwestern College (6:30 p.m. kickoff) while Hilltop will engage the Valhalla Norsemen in a non-league encounter in East County (7 p.m. kickoff).
Bonita Vista finished 2-2 in the shortened spring season while Morse finished 1-3.
Hilltop finished 0-4 in the spring season while Valhalla finished 0-6. The Lancers were out-scored 150-21 while the Norsemen were outscored 215-57.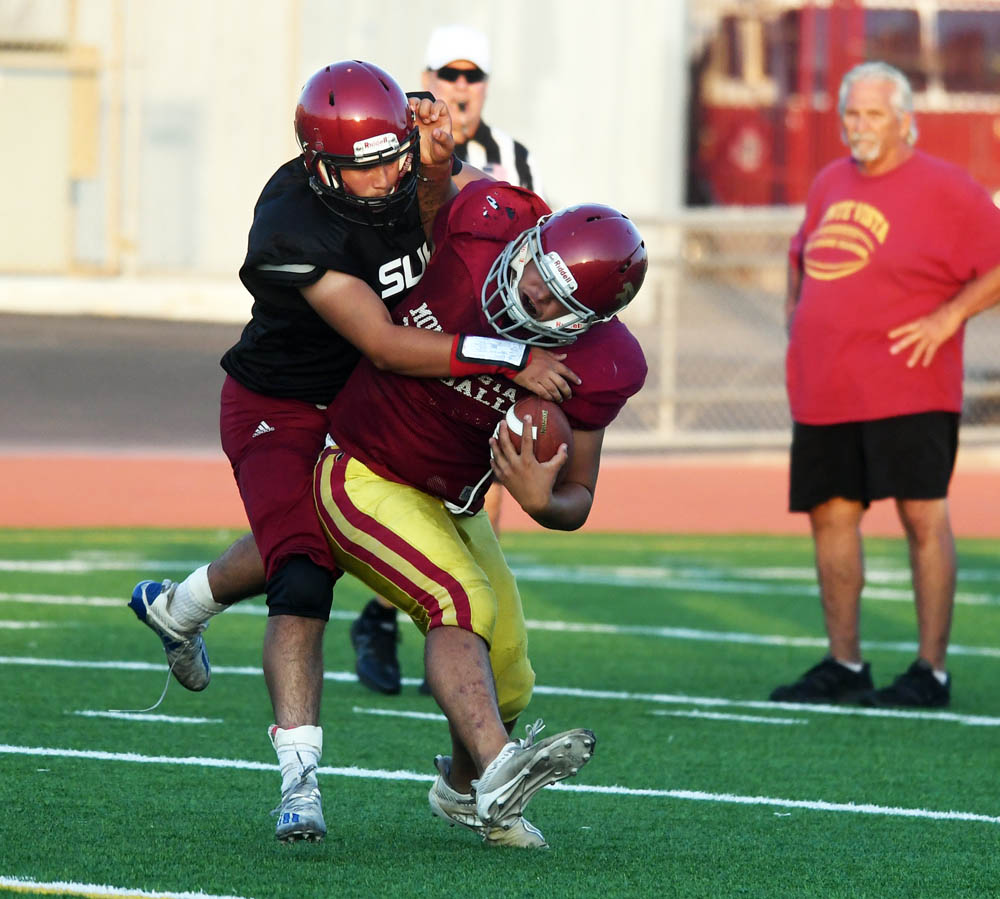 Seeing red
Sweetwater head coach Ervin Hernandez got to see his team in action last Friday at home against Canyon Hills and Monte Vista.
"It was great to get different looks from Canyon Hills as a spread team and Monte Vista as a power running team for our defense," Hernandez said. "A couple of those big plays we gave up were due to misalignment. so those are mental errors we fixed on Saturday's practice.
"Our offense continues to improve; we have a solid game plan moving forward to Grossmont on Thursday (6:30 p.m. kickoff with a revised date). I believe we will compete and have a challenging game ahead in Grossmont."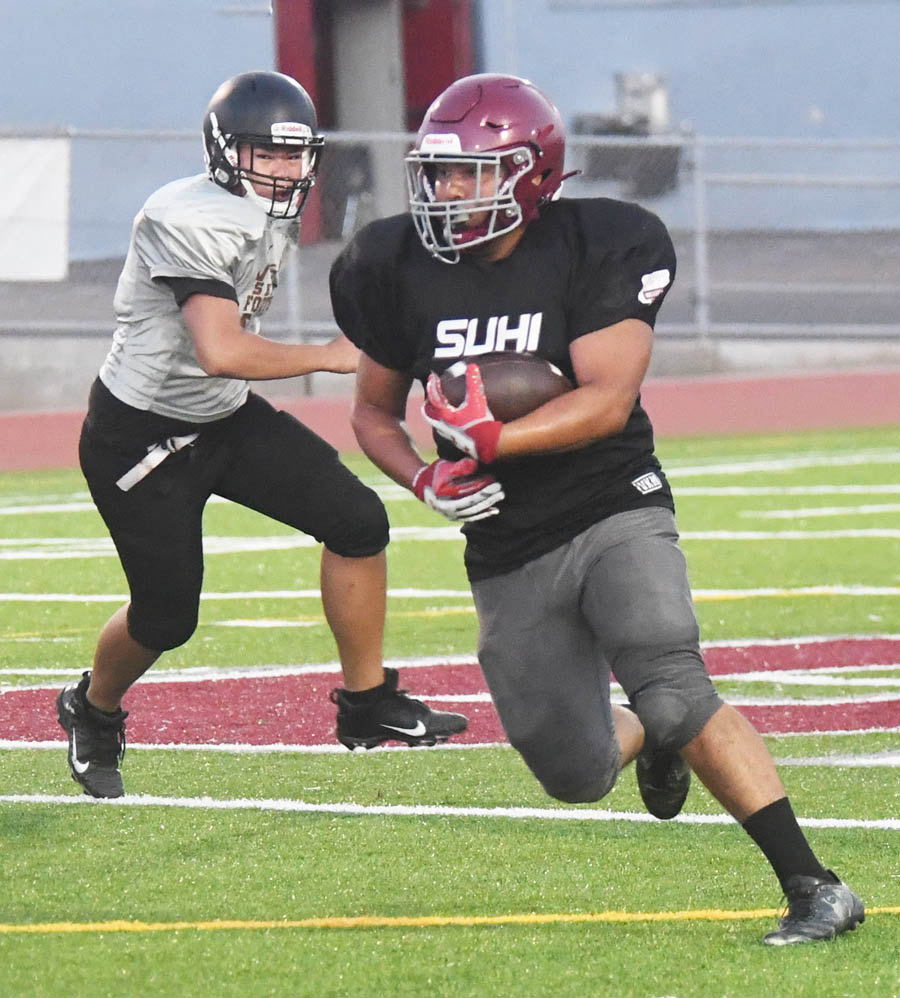 Lancers working through challenges in return to field
Hilltop High School head coach Bryan Wagner has returned to "his" field after booting a section record 53-yard field goal and booming a 78-yard punt in 1979 as a member of the Lancers. Wagner returned to the field often to hone his skills during off-seasons in his ensuing collegiate and nine-year NFL career.
Wagner set a then Super Bowl record for averaging 48.8 yards per punt as a member of the hometown San Diego Chargers.
He is looking for a better outcome in his second season guiding his alma mater. Hilltop finished 0-4 during the spring season while being absorbing a last place finish in the Metro-South Bay League standings.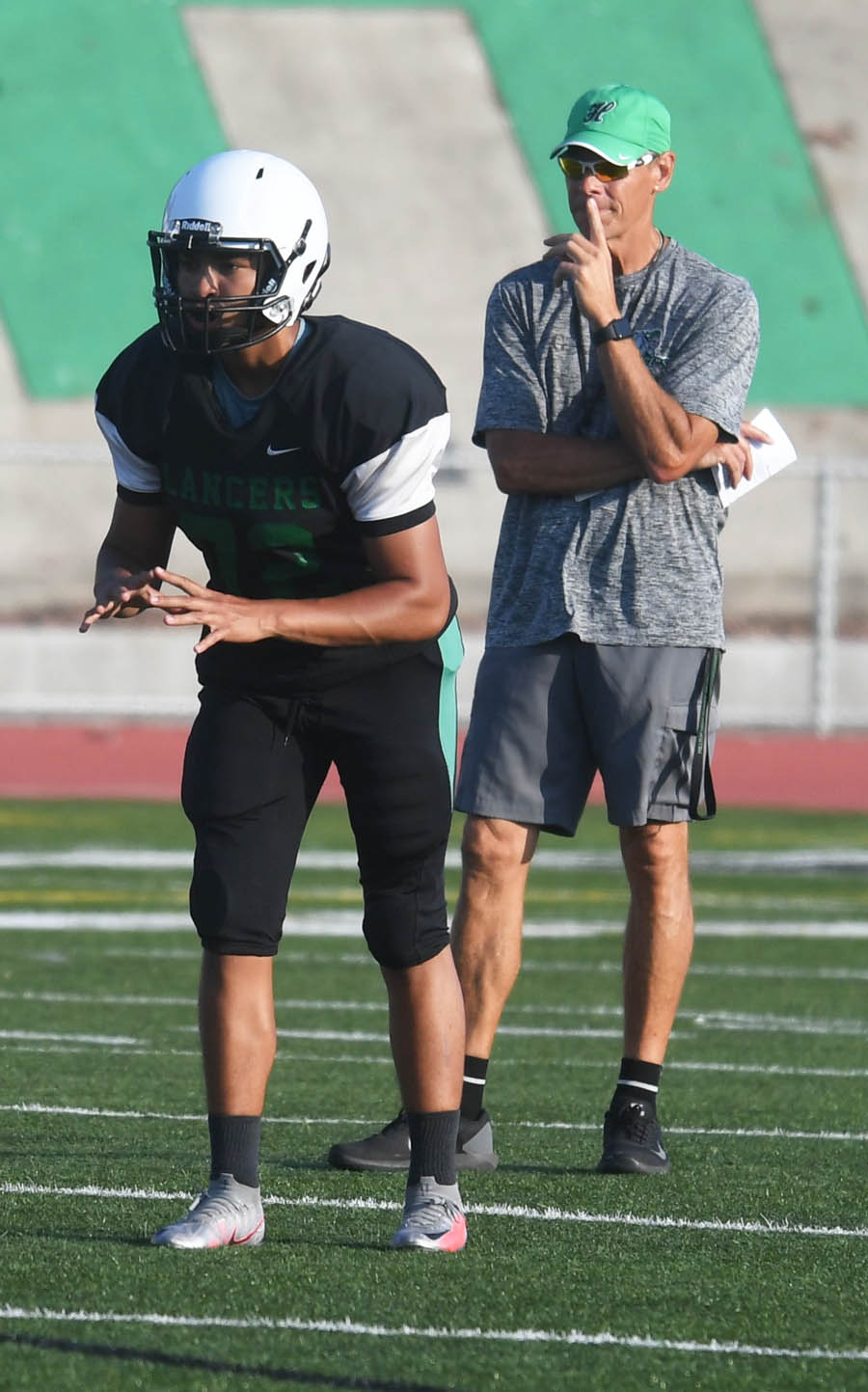 Admittedly, there wasn't much time to prepare for the spring campaign. In fact, Wagner had only one team meeting after being named the school's new head coach before the coronavirus pandemic shuttered spring practice in 2020. When on-campus activities resumed in later in the year, Wagner and his staff could only lead the team in conditioning drills.
That was the least of Hilltop's challenges as the Lancers move up to the more competitive Mesa League this season.
But challenges make things interesting.
Wagner feels he has his team prepared to make the jump.
"Our leading rusher from last season will return, Josh Bernardo," the Lancer skipper said. "We're returning many who saw a lot of time on the field both offensively and defensively. Linebackers Aaron Hood and Liam Dougherty tied for the second-most tackles on defense last season and should be mainstays in the middle.
"Defensive linemen Tyeron Washington and Zach Bernard will solidify the line. We only have two returning starters on the offensive line and need to find a few tough underclassmen to compete for spots. We will also be young in the secondary. We will have a lot of new young faces on the field, but we should be OK and compete."
Top returners include Bernardo (5-8, 160), a junior, senior offensive/defensive linemen Ricardo Fleck (6-2, 160) and Noah Peralto (5-8, 220), senior receiver Enrique Nunez (6-1, 180), senior kicker Sal Vidrios (5-10, 170), senior quarterback/defensive back Jorge Garcia (6-0, 170), Dougherty (5-11, 190), a senior halfback/linebacker, Washington (6-0, 220), a junior running back/defensive end, junior running back/linebacker Sebastian Calara (5-11, 220) and junior halfback/defensive back Luis Mendoza (6-2, 190).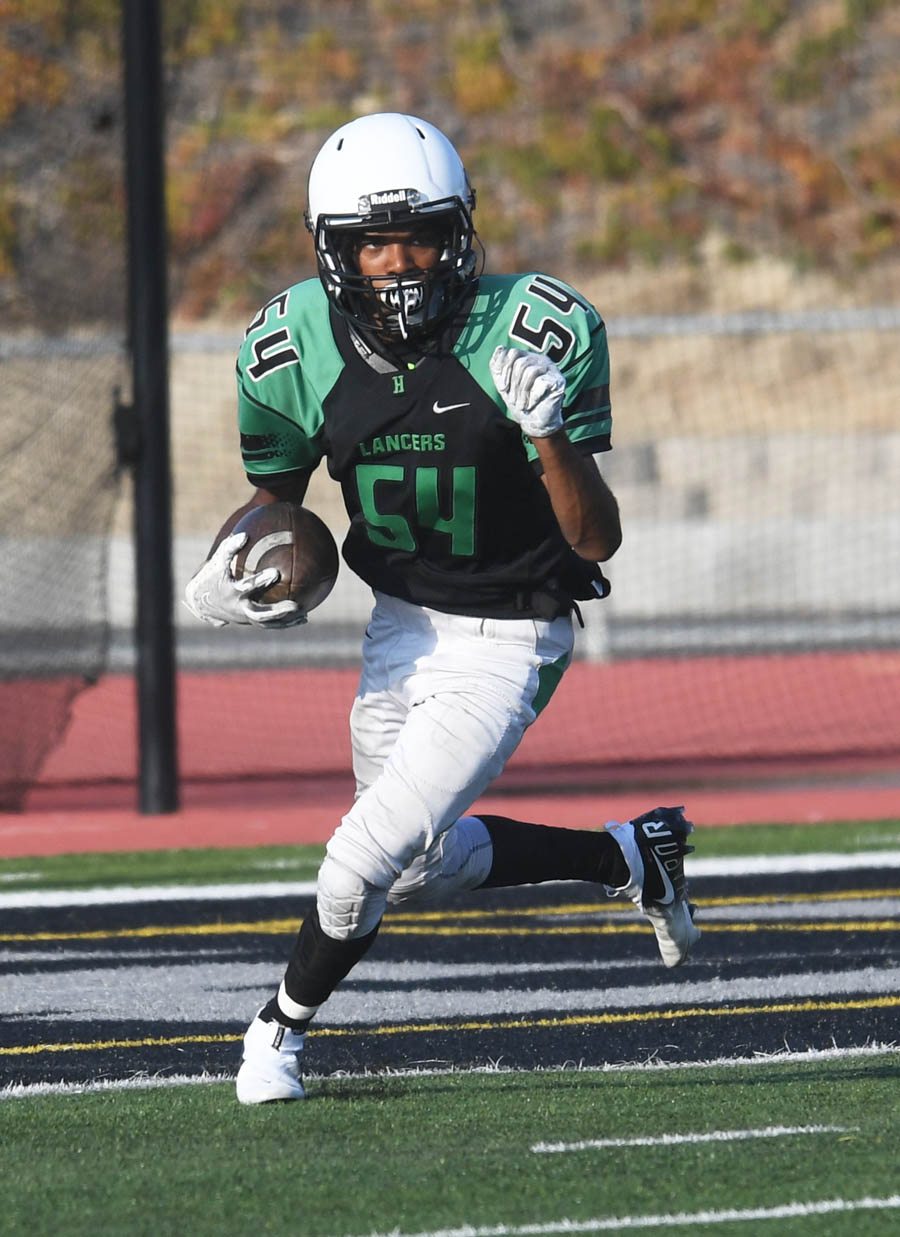 Bernardo (first team offense), Nunez (second team offense), Dougherty (second team defense) and Washington (second team defense) all earned all-league recognition.
Bernardo rushed for 175 yards in four games while Nunez collected 113 all-purpose yards. Dougherty had 10 tackles and one interception.
Newcomers looking to make an impact include junior receiver Angelo Zapata (5-10, 170), Bernard (6-3-220) a senior tight end/defensive end, senior Zack Alexander (5-10, 160) and junior offensive lineman Jonathan Buenrastro (5-10, 220).
Interestingly, Wagner is one of six former NFL players coaching within the section this season.
METRO CONFERENCE FOOTBALL ALIGNMENT
Mesa League
Bonita Vista Barons
Eastlake Titans
Hilltop Lancers
Mater Dei Catholic Crusaders
Olympian Eagles
Otay Ranch Mustangs
South Bay League
Castle Park Trojans
Chula Vista Spartans
Mar Vista Mariners
Montgomery Aztecs
San Ysidro Cougars
Sweetwater Red Devils
Hilltop Lancers 2021 Schedule
August
20:  Hilltop at Valhalla, 7 p.m.
26: Hilltop at El Capitan/El Capitan at Hilltop, 7 p.m.
September
3: Chula Vista at Hilltop, 6:30 p.m.
10: Bye
17: Hilltop at Morse, 7 p.m.
24: Escondido at Hilltop, 7 p.m.
October
1: Otay Ranch at Hilltop, 6:30 p.m.
8: Eastlake at Hilltop, 6:30 p.m.
15: Olympian at Hilltop, 6:30 p.m.
22: Hilltop at Mater Dei Catholic, 7 p.m.
29: Hilltop vs. Bonita Vista, 6:30 p.m. at Southwestern College
Bonita Vista Barons 2021 Schedule
August
20: Bonita Vista vs. Morse, 6:30 p.m. at Southwestern College
27: Bonita Vista vs. San Ysidro, 6:30 p.m. at Southwestern College
September
3: Bonita Vista at Sweetwater, 6:30 p.m.
10: Bonita Vista at John Glenn (Norwalk), 7 p.m.
17: Bonita Vita vs. Patrick Henry, 6:30 p.m. at Southwestern College
24: Bye
October
1: Bonita Vista vs. Mater Dei Catholic, 6:30 p.m. at Southwestern College
8: Bonita Vista at Olympian, 6:30 p.m.
15: Bonita Vista vs. Otay Ranch, 6:30 p.m. at Southwestern College
22: Bonita Vista at Eastlake, 6:30 p.m.
29: Bonita Vista vs. Hilltop, 6:30 p.m. at Southwestern College