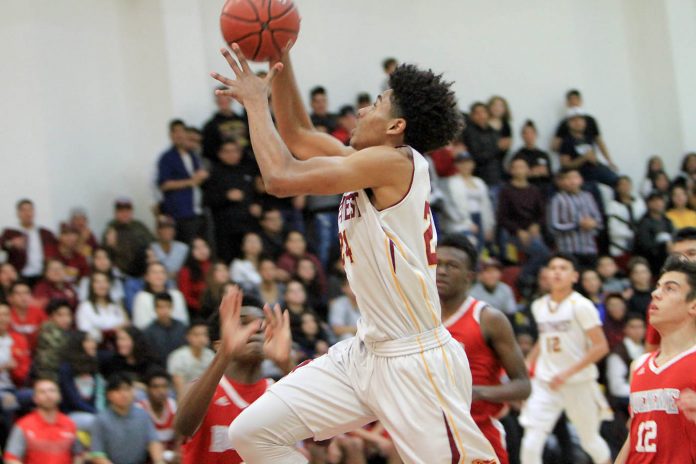 The Southwest High School boys basketball team received three road games in last year's Southern California regional playoffs as a reward for winning the San Diego Section Division V championship.
As a result, the Raiders took three trips to the Los Angeles area last year, winning the first two match-ups before falling to Van Nuys, 72-52, in the semifinal round.
Southwest, coming off its second consecutive San Diego Section divisional championship, has found a way to advance to this year's regional championship game by winning on its home court.
The Raiders, seeded second in this year's tournament, earned a berth in Tuesday's SoCal title game after edging third-seeded Orange Vista, 45-43, in last Saturday's semifinal contest.
Southwest (28-7) will not have the home court advantage in Tuesday's game at top-seeded Bakersfield Foothill (22-11). The stakes are high for both teams: the winner advances to the state championship game.
"So far, we have held serve in the playoffs, both in the CIF section and in the Southern California regionals, winning all the games we were predicted to win based on seeds," veteran Southwest head coach Steve Selland said. "Now, we venture up to Bakersfield Foothill, the No. 1 seed and will play a very good and very big team."
So far, the Raiders have been up to the task.
Southwest held on to record its latest victory – and extend its current winning streak to seven games – after racing to a 34-21 lead in the third quarter. Issac Gonzalez led the way by scoring 17 points on five three-point baskets.
However, Selland noted that when Diego Edwards was called for successive fouls, he was recalled to the bench, at which point Orange Vista went on a 17-0 run until Edwards could return to the game and, in the coach's words, "stabilize things."
"In the end, he, Issac and Jorge Castillo hit key baskets to secure the victory," noted Selland, who called the playoff tilt a "a very stressful, grind-it-out defensive game."
Southwest led 16-12 at the end of the first quarter as the teams combined for 28 points. However, the Raiders and Coyotes combined for just 15 points in the second quarter, with Southwest holding an 8-7 edge to lead 24-19 at halftime.
Orange Vista out-scored Southwest 16-10 in the third quarter to take a 35-34 lead into the final quarter. The Raiders won the scoring battle down the stretch 11-8 to win by two points.
Isiah Shirley led the Coyotes with 18 points.
Southwest defeated 10th-seeded Oxnard Hueneme, 54-35, in the regional quarterfinals on Feb. 28 as senior Bryan Encinas poured in 18 points and Edwards contributed 15 points and 16 rebounds.
The Raiders, braced by a strong defensive effort, held a commanding 33-9 halftime lead.
Southwest tipped off regional play with a 67-43 win on Feb. 26 against Santa Monica New Roads.
Foothill, which is currently riding an 11-game winning streak, defeated fourth-seeded Santa Clara, 66-42, in last Saturday's regional semifinal to advance to Tuesday's championship game.
Foothill defeated eighth-seeded Arleta, 79-60, in the regional quarterfinals after tipping off the state playoffs with a 72-57 win over 16th-seeded La Puente Bassett.
The Trojans boast six players six feet or taller, including 6-foot-8 forward Edward Turner, 6-foot-6 forward Warren Stingley and 6-foot-4 forward Elijah Seales.
Edwards stands 6 feet, 4 inches tall to match teammates Dyon Ford and Xavier Finley while freshman Nicholas Ortega is 6 feet, 6 inches tall.
Photo Gallery by Roberto Bonilla
Southwest 54, Oxnard Hueneme 35
Southern California Regional Quarterfinals