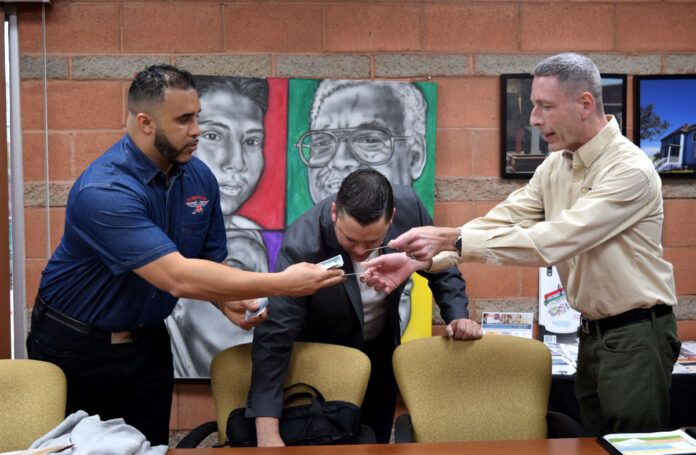 The National City Chamber of Commerce is heading into 2023 with a modified approach to business networking, due in no small part to the effects of changing socialization habits during and following the pandemic.
Between 2019 and 2021, the number of people primarily working from home across the nation tripled from six to 17%, according to estimates from the U.S. Census Bureau. Also according to the U.S. Census Bureau, historically more new business applications were filed in 2021 than any year on record, many of which then opened for business in 2022.
However, National City was hit hard by the pandemic with higher infection and death rates than elsewhere in San Diego County, and continues to have some of the highest new case rates along with neighboring Chula Vista and south San Diego as of Jan. 5, according to San Diego County statistics.
National City Chamber project manager David Grepe said even as businesses begin transitioning back to practices from before the pandemic hit in early 2020, it is evident people are not back to doing business entirely in person, even while seeking ways to grow their businesses.
"As people come back in person, they're gradually getting used to the post-pandemic world. We have 20 to 25 people attending meetups instead of the 40 to 45 we used to see. The other thing is that people are very eager to learn about new programs," Grepe said.
In response to those changing approaches, Grepe said the Chamber is steering away from large scale events and shifting toward inner opportunities for member organizations to network with each other.
"We see it and we're focusing on membership value for now such as offering opportunities to send email blasts. We do things like make the conference room available for presentations, members can use the Chamber resources to connect them with business services they might require, connect them to city officials, things like that," Grepe said.
Prior to the pandemic, he said, staff members spent many hours putting together large, public events like the mariachi festival and the car show but pressing the pause button on those events, for now, has freed up staff to focus on refining services to members.
"Even though we shrank from four to two and have our chair actively working as we transition into this new phase, we are growing our services, it just looks different," Grepe said.
For example, the discovernationalcity.org website which they launched in 2022, is expected to pay off this year.
"We invested in the website last year with the exclusive purpose  of showing people outside National City where to go, where to shop, hotels to stay at while they're in town, what to eat. That is something that all businesses, even those who aren't Chamber members will benefit from as it will lead to more business in National City," Grepe said.
One highlight for 2023 is a newly launched THRIVE program, a series of monthly workshops geared toward providing women entrepreneurs an opportunity to network and learn from each other's experiences. The program is entirely free for anyone who signs up and the Chamber staff has already planned ahead for the first six months of presenters to anchor each workshop.
"Each session will be broken up into 15 minutes of networking space, a 45-minute presentation, and finalized with another 15 minutes so people can schedule one-to-one meetings with each other. The main focus, though, will be on the presenters," Grepe said.
The first meeting, scheduled from noon to 1:30 p.m. on Feb. 9 will feature Medicare advocate and subject matter expert Susanne Romo.
"Susanne is going to give a presentation on target marketing and how to identify your best networking partners. People don't realize how important it is to have networking partners," Grepe said.
Future THRIVE workshops will include life coach Angie Mayora talking about maintaining a positive mental attitude in business, Mile of Cars Board President Jenifer Ball discussing success in a male-dominated world and San Diego and Imperial Women's Business Center Director Katty Ibarra on business tools to succeed.
"We had a mini conference last year called THRIVE: Women in Business and it went very well but we don't have the resources to do an event of that size again and we realized we could provide a better opportunity for women to connect throughout the year if we turned it into a series of ongoing workshops," Grepe said.
Grepe also said they are growing available tools for new business owners, including connecting them with the Small Business Development Center available through Southwestern College and located across the street from the National City Chamber. The regional SBDC center is part of a larger network which includes the East county SDBC, Export SBDC which focuses on international markets and Alliance SBDC which includes the Asian Business Association of San Diego, the Central San Diego Black Chamber of Commerce and the San Diego County Hispanic Chamber of Commerce, among others.