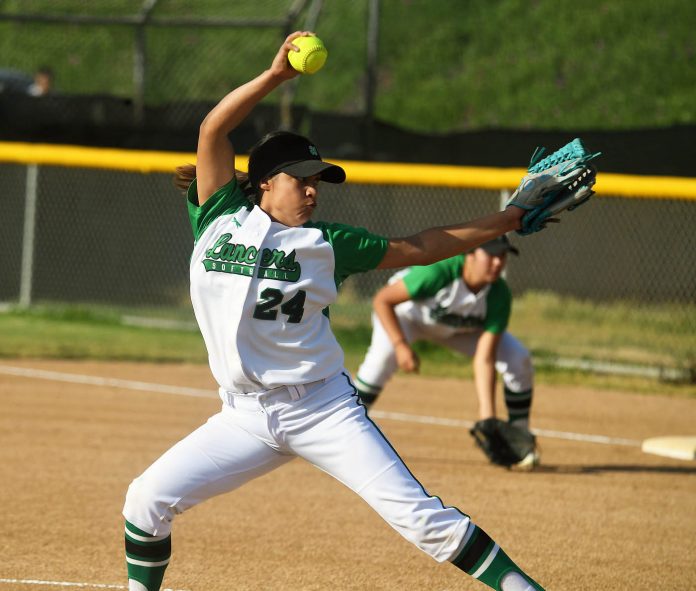 At the midpoint of the 2019 season, the Hilltop High School softball team appears to be right where it wants to be: at the top of the San Diego Section Division III rankings.
The Lancers recorded a 3-2 comeback win over division rival Mission Bay on Monday to improve to 11-3-1 on the season and, in the process, retain their No. 1 ranking.
The Lancers appear they will get plenty of high-grade competition leading up to the section playoffs by competing in the Metro Conference's ultra-stacked Mesa League.
Besides Division III top-ranked Hilltop, this year's Mesa League line-up also includes Mater Dei Catholic (11-1), Eastlake (11-2), Bonita Vista (7-3), Otay Ranch (5-6) and Olympian (4-10).
Mater Dei Catholic and Eastlake are currently ranked first and second among section teams, according to statistics maintained by the MaxPreps website, while Bonita Vista is ranked fourth.
Both Otay Ranch and Olympian will compete in the upcoming Division I playoffs. Hilltop is the only Division III team in the league.
"We're going to be battle-tested going into CIF," Hilltop coach Juan Reyes said after Monday's victory.
The Lancers trailed 2-0 before scoring three runs in the bottom of the sixth inning of Monday's game.
Lily Hermosillo led off the fateful frame with a triple and scored on a single by Alexia Sandoval. Haney Celis drew a walk to place two runners on base. Both runners moved up a base on a wild pitch, placing them at second and third base.
Alexa Zumstein drew a walk to load the bases. Mayeli Martinez followed with a clutch base hit to score two runs.
Sandoval then retired Mission Bay (5-4-1) in order in the top of the seventh inning to secure the victory.
Hermosillo, a freshman, leads Hilltop with a .533 hitting average while collecting a team-leading 21 RBI.
Sophomore Elizabeth Olguin ranks second on the team with a .500 hitting average and has driven in 15 runs while belting two home runs.
Freshman Sofia Vega, who ranks third on the team with a .479 hitting average and second on the team with 19 RBI, is the team leader with three home runs.
Reyes underscored just how young his team is this season.
"We're still learning how to finish," he said. "We're going with one senior, one junior, six sophomores and six freshmen in the line-up. The youth movement has been good. Our team leader has been our senior, Alexia Sandoval."
Sandoval improved to 8-2 after Monday's win. She has a 2.69 earned-run average and 32 strikeouts in 57.1 inning pitched.
Freshman Alexyia Reyes is 3-1 with a 4.76 ERA and 16 strikeouts in 32.1 innings.
Sandoval relieved Reyes in Monday's game; Sandoval allowed two hits in 4.2 innings with four strikeouts.
The Lancers' three losses on the season have come against Mater Dei Catholic (10-3 in the Platinum Division of the Cougar Classic), 11-10 to Mar Vista in a non-league game and 5-4 to El Capitan in the semifinals of the Hilltop tournament.
Mar Vista (9-3 overall) is 1-0 in South Bay League play after defeating San Ysidro, 16-2, on March 27.
Hilltop hosts Otay Ranch on April 10 in its Mesa League opener. In another key league opener on April 10, Bonita Vista hosts Eastlake.