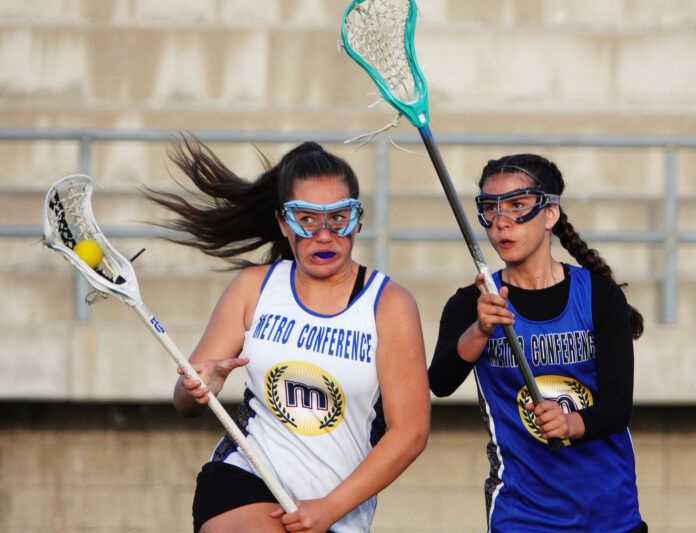 The inaugural Robert Blas Metro Conference Girls Lacrosse Showcase took place May 23 at Eastlake High School to honor the memory of the beloved coach who helped found the school's girls lacrosse team and served as a district-wide advocate for female sports.
Blas, 50, died of natural causes on Feb. 3, 2020.
Castle Park High School girls lacrosse coach Chris Kryjewski, who called Blas a mentor, organized the event with the help of coaches within the conference.
Teams were split into the South Bay League all-stars and Mesa League all-stars. The Mesa League all-stars won 16-6 but few were keeping track of the score. The emphasis was on camaraderie and having fun on the field while helping showcase the sport at the local level.
Suffice it to say, the skill level at the South County level has increased tremendously.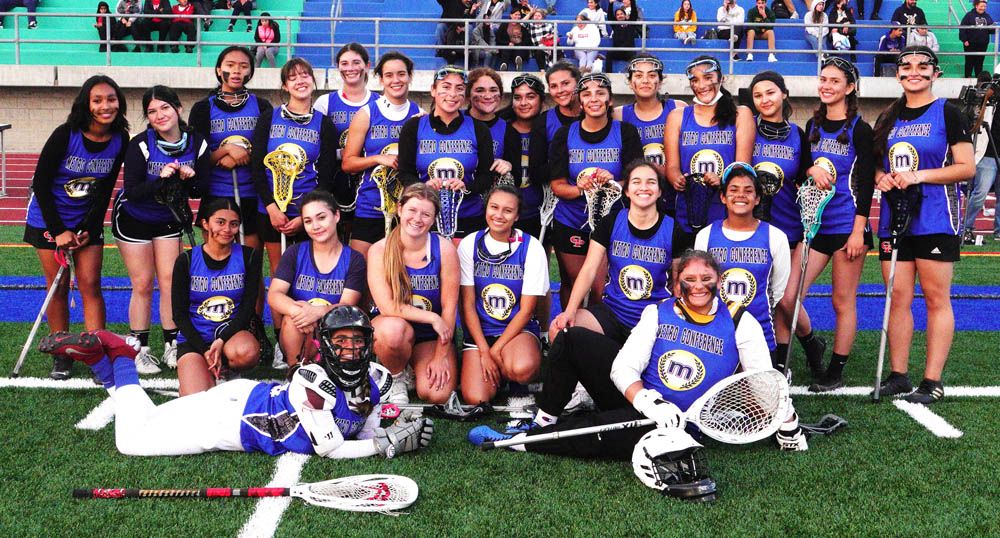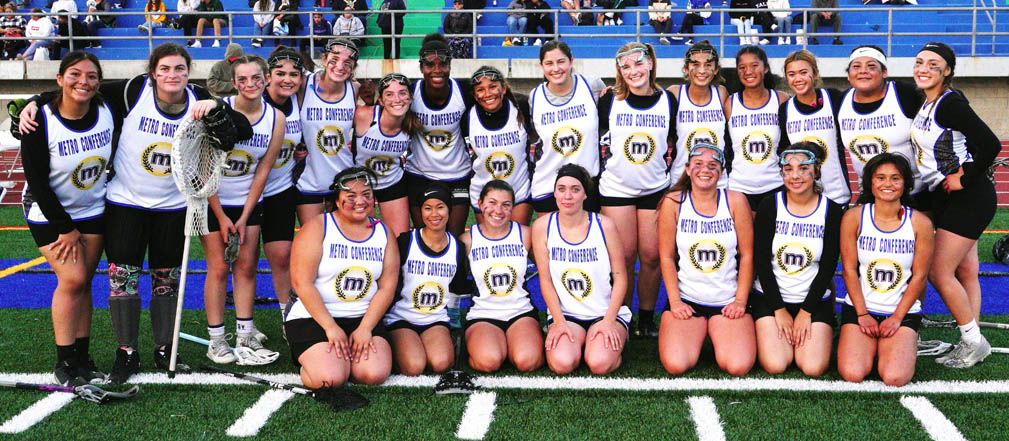 Mesa League all-stars. Photo by Paul Martinez
"I truly feel the turnout to this event was amazing," said Kryjewski, who served as game co-ordinator. "To see the smiles on the student-athletes' faces was amazing. To run this game in the honor of coach Blas is something I feel has elevated our community together. A lot of these girls know a portion of what coach Blas meant to our community of youth athletics but by them playing to their highest level will continue to keep his legacy up and build our Metro Conference community to new heights.
"I truly thank all the parents for their countless hours to give their daughters an opportunity to play this wonderful game. I thank coach James Masias and coach Julia Masias and the Eastlake administration team for being a hosting site for this event."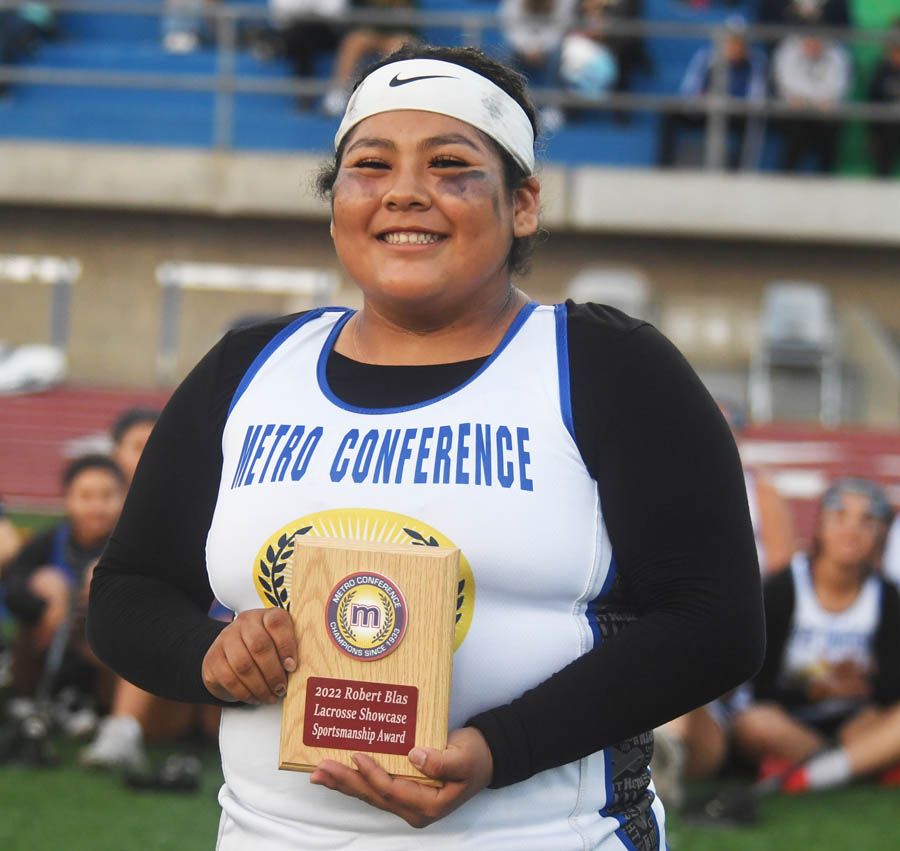 Kryjewski also thanked all of the coaches who helped with the game, starting with Mesa League coach of the year Keith Quigley of Olympian High School and South Bay League coach of the year Claire Cesarone of Mater Dei Catholic High School.
He also wanted to thank coaches Alvene Alcos (Olympian), Adrian Rodriguez (San Ysidro) and Louie Hernandez (Castle Park).
Kryjewski also was recently named the head girls field hockey coach at Castle Park. He also serves as UA All America West Region coach.
Quigley served as coach for both the boys and girls lacrosse teams at Olympian after leading Bonita Vista to this year's Metro Conference roller hockey championship and a fourth-place finish in the ensuing Kiwanis Cup playoffs.
The OHS boys squad posted an 8-9 regular season record while the Lady Eagles of Olympian finished 9-6.
"The all-star game was a very successful event for these high school girls," Quigley said. "I'm so glad that coach Chris from Castle Park was able to put this together and a special day in the memory of coach Robert Blas. I know my Mesa League girls had a blast out there. They really enjoyed playing with other girls from the various local high schools."
Quigley said he was caught somewhat off guard at being named coach of the year.
"It was definitely a surprise since it was my first year coaching girls lacrosse at Olympian," he said. "I put in a lot of time when coaching my teams, so it felt really good to get recognized for that."
Coaching both boys and girls teams at the same school definitely took a lot of time management and adjustments.
"Going into the spring lacrosse season I knew it was going to be a bit crazy coaching both girls and boys lacrosse at Olympian," Quigley said." But the girls team didn't have a coach and their season was in jeopardy, so I figured I'd step up and do it.
"It was a bit of a puzzle figuring out practice schedules and game schedules for two teams but in the end it was worth it because I really enjoyed it. There's obviously a different dynamic between a girls team and a boys team and I really enjoyed that aspect of it all."
Metro Conference standings
Mesa League
Eastlake                                     7-0
Olympian                                   5-3
Bonita Vista                                3-4
Hilltop                                        3-4
Otay Ranch                                0-7
South Bay League
Mater Dei Catholic                    10-0
Mar Vista                                  7-3
San Ysidro                                6-4
Castle Park                               5-5
Montgomery                             2-8
Southwest                                0-10
San Diego Section Playoffs
Division 1
First round: (5) Canyon Crest Academy 15, (12) Eastlake 3
Division II
Play-in round: Monte Vista 9,   Mater Dei Catholic 8