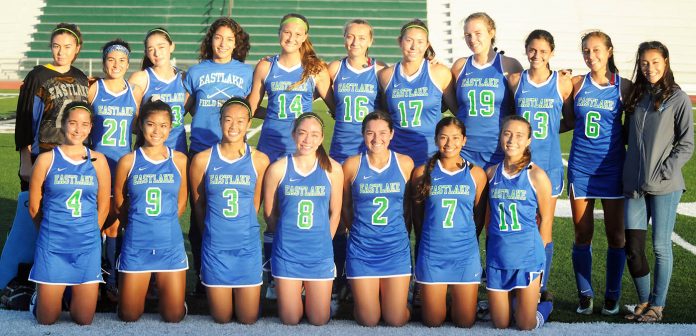 The Eastlake High School girls field hockey team is now working on a 23-game unbeaten streak in league play thanks to Monday's 6-0 win at Hilltop.
The two-time defending league champion Titans have cobbled together their quite fashionable league winning streak over parts of the last three seasons.
Eastlake finished this season as league champions with a 6-0 Mesa League record after winning last year's league championship with a 12-0 league record.
The Titans finished 10-2 in league play in 2016 while recording a runner-up finish to Hilltop. Eastlake closed out that season with five league wins.
The next stop for the 2018 edition of Titans (16-1 overall) is the San Diego Section Division II playoffs.
"Hopefully we'll get the No. 1 seed, get a bye and play at home (in the quarterfinals)," EHS head coach Robert Blas said after the team wrapped up the regular season portion of its schedule on Monday.
Blas said the team's goal is to play in the Division II championship game, which will be hosted this year at Eastlake High School.
There is a lot of motivation on the Titans' part after entering last year's semifinal playoffs with a 20-0 record but losing, 2-0, to Mission Hills.
Call last season a valuable learning experience despite falling short of the end goal.
"Heading into the playoffs we've got to be mentally prepared as well as physically prepared," Blas said. "We need to keep our focus on the prize."
Eastlake honored seven seniors in its final regular season home game on Nov. 1. The Titans are currently riding the crest of an 11-game winning streak. The team's lone loss was a 1-0 setback to Bishop's on Sept. 25.
Eastlake has recorded 14 shutout victories this season.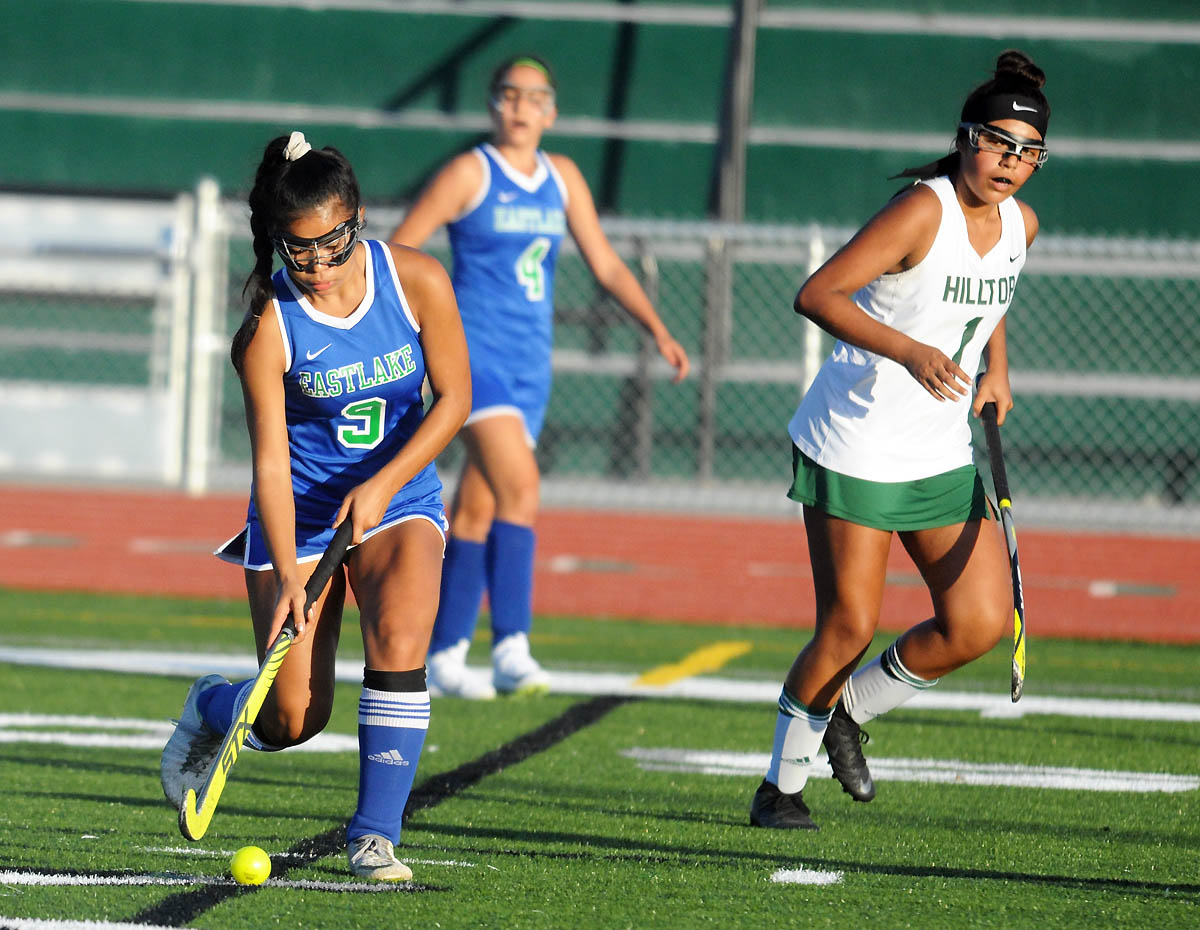 Senior defender Marissa Garcia is among the Titans' four-year varsity players. She's been a part of the team's marathon winning streak since its start.
"I've seen a lot of improvement among the individual players," Garcia said. "There is a lot of team chemistry. We know how we all can play. We all have a different style, so we know what to expect from each player."
She obviously takes a lot of pride in what the team has accomplished the past two seasons with a 36-2 record, including two league championships.
"Last season we went 20-1 and we got a lot of recognition over that," Garcia noted. "Not a lot of people at school knew about the girls field hockey team. It felt really good to get that recognition from our peers."
Eastlake scored five goals in the first half of Monday's game and finished the second half with a running clock. Alesia Casillas led the Titans with two goals and one assist while Taylor Tropp, Ariana Lorenzana, Noelle Ertzner and Garcia each scored one goal.
Goalkeeper Kailey Uribe recorded the shutout win. Tropp also had two assists.
The opening round in the Division I and Division II playoff brackets is Saturday, Nov. 10. The quarterfinals are scheduled Monday, Nov. 12, in Division II and Tuesday, Nov. 13, in the Open Division and Division I.
Semifinals in Division II are Wednesday, Nov. 14, followed by semifinals in the Open Division and Division I on Thursday, Nov. 15.
The section championship triple-header is scheduled Nov. 17. The Division II final is scheduled at 11 a.m., followed by the Division I final at 1 p.m. and the Open Division final at 3 p.m.
Hilltop (3-3 in Mesa League play, 8-12 overall) will participate in the Division I playoffs and should receive a mid-seed in the 12-team bracket.
The Lancers had put together a three-game winning streak before dropping a 2-1 league contest to visiting Bonita Vista on Nov. 1. Hilltop had defeated Chula Vista (3-1), Olympian (2-0) and Southwest (2-1) to rack up three consecutive wins.
"Our goal is to finish the season strong and go as far as we can in the playoffs," Hilltop coach Janine Dare said.
Bonita Vista (3-3 in Mesa League play, 10-9 overall) and Otay Ranch (6-0 in South Bay League play, 10-12) are both pushing to make the Division II playoffs.
Playoff seeding: www.cifsds.org
Mesa League Standings
School W/L
Eastlake 6-0
Hilltop 3-3
Bonita Vista 3-3
Southwest 0-6
South Bay League Standings
School W/L
Otay Ranch 6-0
Olympian 4-2
Chula Vista 2-4
Castle Park 0-6
Photo Galley by Phillip Brents