It looked like both teams were primed for a shootout last Friday when the host Hilltop Lancers took on the Olympian Eagles in a non-league high school football game.
The Eagles, still searching for their first win of the season after a 0-3 start, took a 7-0 lead just 28 seconds into the game on a 50-yard touchdown run by senior running back Blake Yamamoto.
The Lancers, coming off their first victory of the season following a 39-0 win at San Ysidro the previous week, marched right down the field to answer Olympian's opening salvo as senior quarterback Joey Castillo flipped the ball to junior Javin Deanda, who then completed a 28-yard halfback touchdown pass to senior teammate Dylan McCoy.
The hosts missed the extra-point conversion to trail 7-6 but otherwise appeared ready to match whatever their opponent had to dish out.
As it turned out, the Eagles had plenty of offense and defense to showcase in front of the fans gathered in Robert Dodds Stadium en route to claiming a 49-6 non-league victory.
Olympian head coach Paul Van Nostrand lauded his team after the game for what he termed a "good, solid win."
"There was a whole like to like about this game," the Eagles sideline boss said. "We scored two defensive touchdowns. I wasn't pleased with all the penalties we made but I was pleased that we played hard and came up with the win."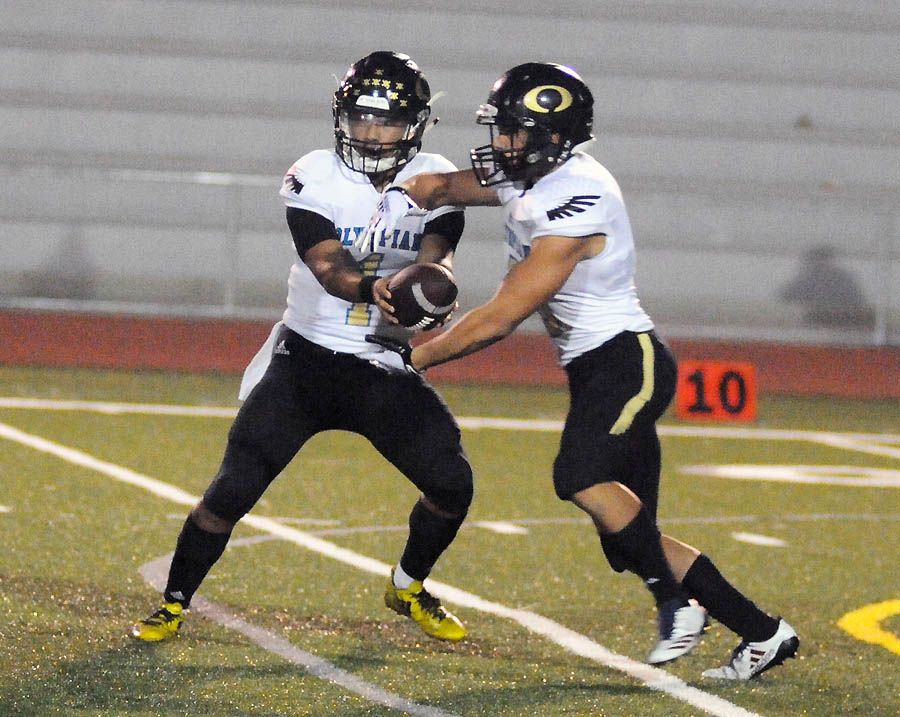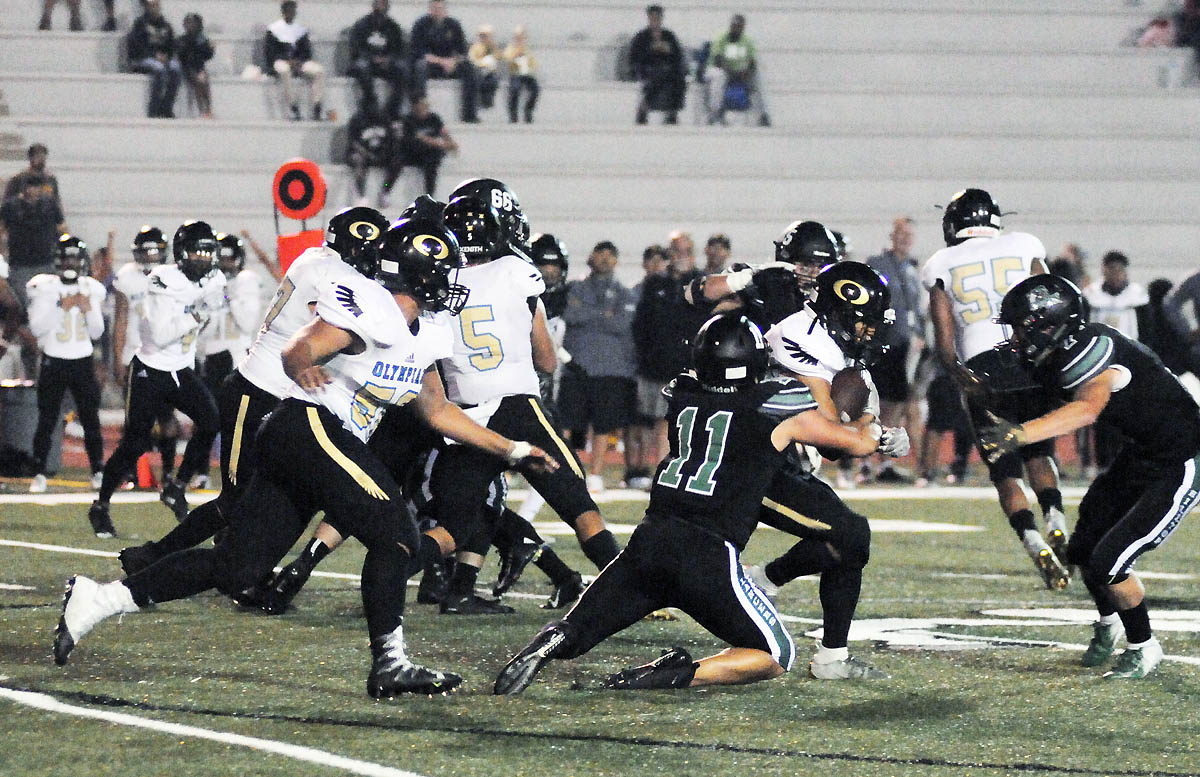 Following the early scoring flurry by both teams, Olympian settled down to outscore the host team by a whopping 42-0 margin over the balance of the contest.
Sophomore cornerback Berry Buxton scored on an 88-yard interception return to put Olympian ahead 13-6 with 4:45 remaining in the first quarter.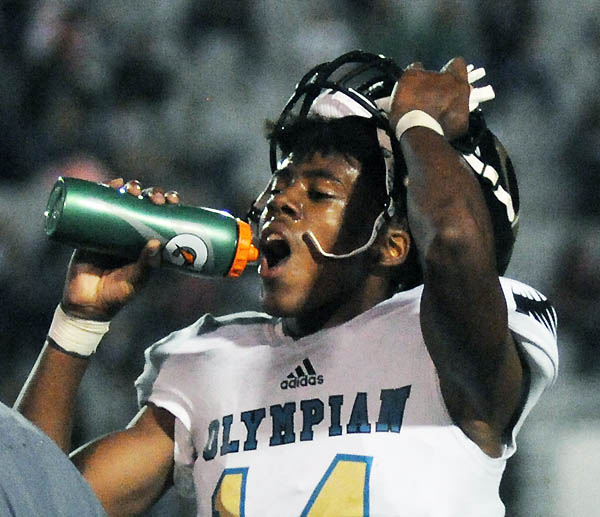 Hilltop missed an opportunity to inch closer on the scoreboard when it marched down the field but failed to convert on a field goal attempt.
From there, the Eagles took flight in recording their first victory of the season.
Quarterback Arnold Escano scored on an 11-yard run to up the score to 20-6.
An interception by senior Damarian Thornton positioned senior Erik Duarte for a 34-yard field goal with 39.1 seconds left before halftime to make the score 23-6 in favor of the visitors.
Olympian hiked the score 29-6 on a one-yard touchdown run by junior middle linebacker Daniel Humphrey to open scoring in the third quarter. Escano scored his second touchdown of the game on a one-yard run to increase the score to 35-6.
Blake Yamamoto's twin brother Trent scored his first touchdown of the game on a four-yard run to make the score 42-6. Junior outside linebacker Tyler Powers capped scoring in the game with a 54-yard interception return in the dying minutes.
Totaled up, Olympian sealed the win with an all-around effort that included three interceptions, including two returns for touchdowns, one fumble recovery and five rushing touchdowns
Entering the game, the Eagles had been outscored 39-0 in their previous two contests — a 14-0 loss on the road to Poway on Aug. 24 and a 35-0 home field loss to then top-ranked Torrey Pines on Aug. 31.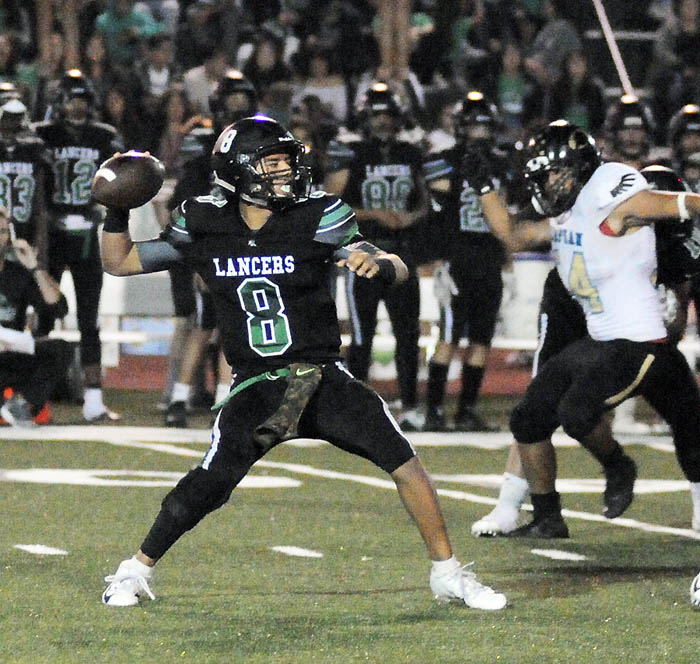 Hilltop appeared to start right where it left off following the victory at San Ysidro.
The Lancers finished the game with 213 passing yards and 90 rushing yards but committed four turnovers (three interceptions and one lost fumble) to hamper its chances of collecting a win.
Hilltop also was stopped on four-down goal-line stand by the Olympian defense with 2:17 to play in the first half. The Lancers had advanced the ball to the one-foot line but was repeatedly denied on three subsequent plays that eventually pushed the ball back to the two-yard line.
Senior Marcos Deanda led Hilltop with 112 all-purpose yards, including 99 receiving yards, while Castillo completed 22 of 30 passing attempts for 183 yards with two interceptions.
Junior Javin Deanda completed two passes — one for a touchdown and one for an interception.
McCoy had eight catches for 62 yards while senior Jeremiah Serrano rushed 15 times for 63 yards to pace the Lancer ground game.
"We really were frustrated we did not score more points on offense as we moved the ball for the most part very well," Hilltop head coach Drew Westling said. "Once we eliminate the small mistakes and clean it up we will be very good. We also have to do a much better job coaching all around. Everyone played hard and we are excited about playing another top team this week in Granite Hills."
The Lancers take on an undefeated Eagles team (3-0) that is coming off a 17-14 double overtime win at Westview last Friday.
Meanwhile, Olympian (1-3) will host a rugged Point Loma team in Friday's homecoming game. The Pointers (2-2) are coming off a 10-7 non-league win over visiting Rancho Bernardo to move up to the second position in the Division II rankings.
The Eagles enter Friday's game ranked 11th in the division.
Olympian was busy on defense in securing the win over Hilltop with 50 unassisted tackles and 81 total tackles collected by 14 players. Senior Jared Desmond led the Eagles defensively with 11 tackles while Powers made 10 stops.
Desmond caused one fumble while junior teammate Anthony Gilpin Jr. was credited with the fumble recovery. Thornton logged two pass deflections besides his pick.
Olympian goal-line stand defensive series: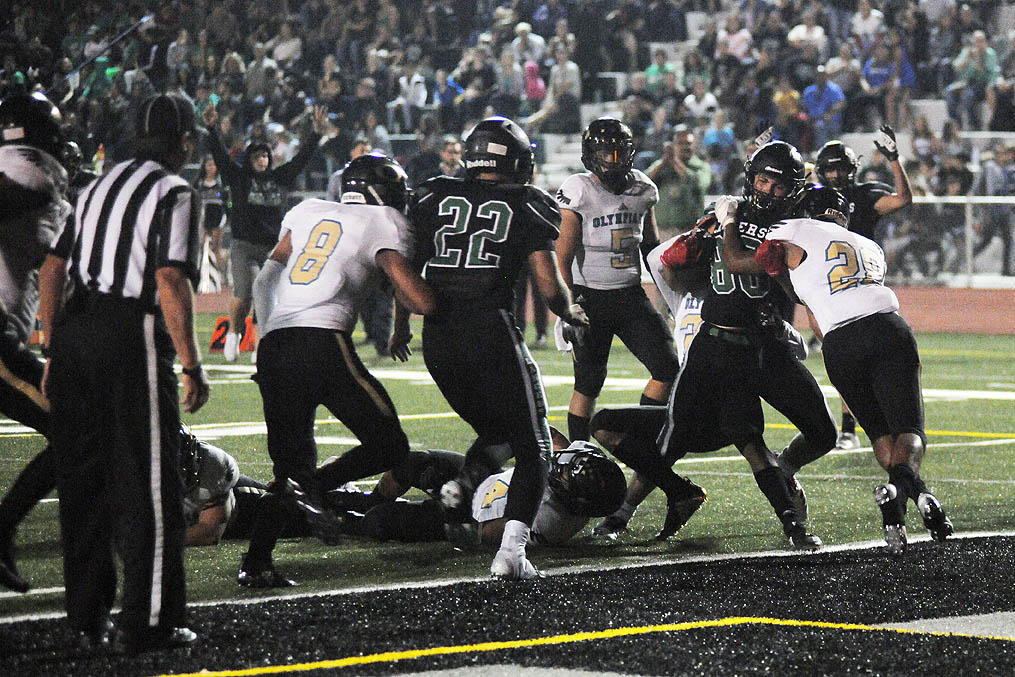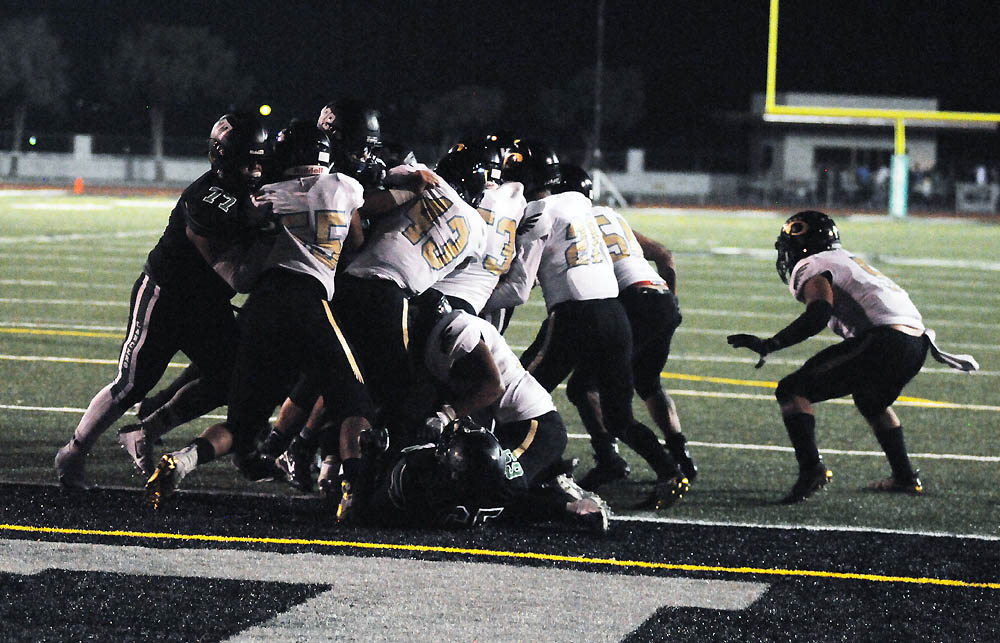 Next up:
All games — Friday, Sept. 14 at 7 p.m.

Hilltop at Granite Hills
Granite Hills remained unbeaten when Justin McElligot kicked a 23-yard game-winning field goal in the second overtime tiebreaker after teammate Cris Osteng had scored on a one-yard run in the first overtime.
The game had ended 7-7 through regulation play. Ethan Bishop scored on a 53-yard interception return for the Eagles to initiate scoring in the game before the host Wolverines tied the non-league contest with a touchdown of their own to send the game into overtime.
Granite Hills overcame six turnovers to post the win over Westview.
Point Loma at Olympian
The Pointers edged Rancho Bernardo to even their season record at 2-2. Point Loma took a 3-0 lead in the first quarter on a 27-yard field goal by Andy Medina but trailed 7-3 at halftime after the Broncos scored the only touchdown in the second quarter on a run by sophomore Javen Jovero.
The hosts came out with the win on the strength of a two-yard rushing touchdown in the final minutes of the fourth quarter by Kaden Gill while holding the visitors scoreless in the second half.
Rancho Bernardo finished the game with 161 passing yards but was intercepted three times (once each by Zak Makis, Tristan Shafer and Gill). The Pointers held the Broncos to 87 rushing yards on 25 carries.
Point Loma suffered eight quarterback sacks in the game yet managed to come out on top in the win column. The Pointers were intercepted once and lost one fumble.
Chula Vista at Mater Dei Catholic
Both teams have lost their last two games. The visiting Spartans are 2-2 on the season while the Crusaders are 1-3.
Chula Vista dropped a gritty 13-0 loss at home last Friday to West Hills, which remained undefeated on the season at 4-0. Spartan head coach Howard Bannister III said he feels his team has the defense to win a division championship but is still searching for consistent offensive production.
Chula Vista is averaging 70.5 passing yards per game and 123.5 rushing yards per game. Individual leaders include senior Angel Jimenez with 125 rushing yards and three touchdowns and junior Alex Guzman with 13 pass receptions for 138 yards.
Mater Dei Catholic was blown out, 35-14, at unbeaten Kearny last week. The Crusaders coughed up 388 total yards (253 passing yards, 135 rushing yards) to the Comets.
West Hills managed to persevere to remain in the unbeaten column despite losing starting quarterback Jordin Young to a wrist injury early in last Friday's game at CVHS.
The visiting Wolf Pack used an early 64-yard touchdown run by Young and a fourth quarter 12-yard touchdown run by Hunter Gauthier, Young's replacement at quarterback, to secure the win.
West Hills hosts El Capitan (1-3) on Sept. 21 in a bid to remain unbeaten on the season. The Vaqueros recorded their first win of the season last Friday with a 41-3 non-league victory against Patrick Henry.
Otay Ranch at Steele Canyon
The visiting Mustangs (2-2) will be out to return to the win column following a 40-0 non-league loss to fourth-ranked St. Augustine last Friday at Mesa College .
Steele Canyon improved to 2-1 after defeating visiting Bonita Vista, 47-7, last Friday to collect its second consecutive win following a season opening 41-13 loss to Carlsbad.
Antoine Walker returned the opening kickoff 80 yards for a touchdown to put the winless Barons (0-4) in a quick hole.
Meanwhile, senior quarterback Nathan Barnett rushed for four touchdowns, including a 44-yard quarterback draw. He finished the game with 152 total yards — 88 rushing yards and 64 passing yards.
Junior Akintunde and Cazz Trisby also scored rushing touchdowns.
On defense, Ian Miller had two sacks, Cameron Ewert had one interception and Alexander Atherton had one fumble recovery.
Otay Ranch is averaging 155 rushing yards per game and 93.5 passing yards per game. Senior Noah Isley (55 carries, 301 yards) and quarterback Puka Stewart (39 carries, 287 yards) have combined for five rushing touchdowns while Stewart had competed 54.3 percent of his passes for 374 yards with two touchdowns and two interceptions.
Marwan Phillips has 11 catches for 128 yards while senior classmate Adrian Merino has 11 catches for 104 yards and one touchdown. Junior Dylan Baca has four catches for 62 yards and one TD.
Isely leads the Mustangs with 449 all-purpose yards (301 rushing yards, 54 receiving yards and 94 yards on kick returns). Stewart tops the team with 661 total yards (287 passing yards, 374 rushing yards).
Seniors Miguel Felix and Dylan Zolezzi lead Otay Ranch defensively with 56 and 46 tackles, respectively. The Mustangs have recorded nine sacks on the season, including three by Zolezzi and two by senior Cameron Galloway.
Otay Ranch has snared three interceptions – one each by seniors Nathan Castroand Michael Touchette and junior Paul Richardson — and recorded two fumble recoveries (one each by junior Jaiden Smith and Galloway).
Barnett, a senior, leads Steele Canyon with 282 rushing yards and 180 passing yards in three games. He's scored seven touchdowns on the ground but has yet to throw a passing touchdown with two interceptions.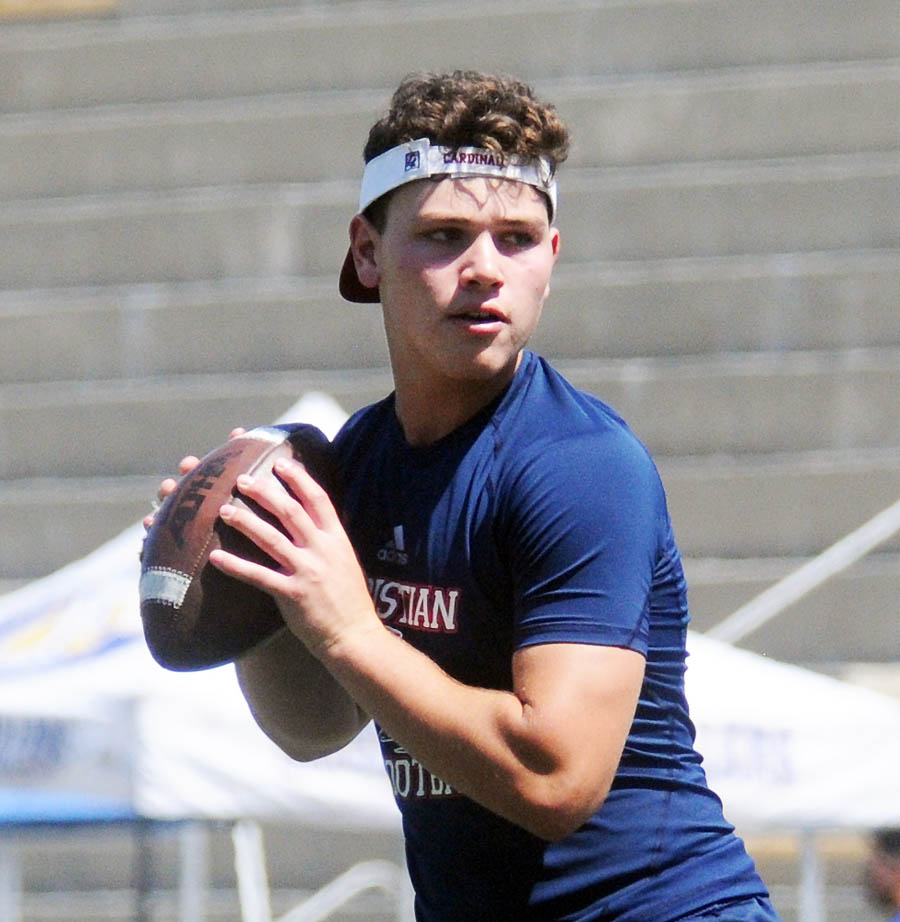 Game of the Week
Christian 22, Monte Vista 21 (2OT)
The Monte Vista Monarchs saw their unbeaten start to the 2018 season end following last Friday's 22-21 double overtime loss to host Christian in a matchup of teams at the top of the Division III section rankings.
The Patriots won in dramatic fashion when Javier Jimenez scored on a two-point conversion play in the second tiebreaker to erase a 21-20 Monarch lead. Christian had pulled to within point when quarterback Owen Easley hit Alex Gonzalez for a 22-yard scoring pass.
The game had ended in a 14-14 deadlock through four quarters and was still tied after the first overtime tiebreaker.
Both of Christian's touchdowns came on passes in the second quarter. Easley connected with Gonzalez for the Pats' first TD of the game that tied the score, 7-7. The hosts took a 14-7 halftime lead on a 36-yard halfback pass from Justin Roehl to Bryce Riepl.
Jahmon McClendon scored both touchdowns for Monte Vista — the first on a 28-yard run in the first quarter to put the Monarchs up 7-0 and the second in the third quarter on a 17-yard screen pass to tie the game.
McClendon, who is bound for SDSU, gained 235 yards on 48 carries and also caught two passes for 26 yards.
Monte Vista took a 21-14 lead on a two-yard scoring run by Elshaddai Levi to open the second overtime tiebreaker. The Patriots made the score 21-20 on the Easley-to-Gonzalez scoring pass before winning the game with the successful two-point conversion.
Christian head coach Matt Oliver had suggested the game had gone on long enough and was ready to try to put an end to it in addressing why he made the decision to go for the two-point conversion. Meanwhile, Monte Vista head coach Ron Hamamoto said he believed the hosts would try to pass on the two-point play.
The Patriots have outscored their four opponents 140-61 to kick off the season. Easley has passed for 793 yards and six touchdowns in four games while rushing for 75 yards and seven scores.
Gonzalez has caught 27 passes for 373 yards and scored four touchdowns while rushing for 77 yards and one TD. Jimenez has rushed for 208 yards and three touchdowns.
Riepl has a team-leading 35 tackles, two sacks and one interception on defense.
Both Monte Vista and Christian have bye weeks before resuming play on Sept. 21.
Prep Football Kickoff
Friday Night Lights
Friday, Sept. 7
Non-League
Eastlake 35, Grossmont 0
Olympian 49, Hilltop 6
Mar Vista 34, Coronado 7
West Hills 13, Chula Vista 0
St. Augustine 40, Otay Ranch 0
Kearny 35, Mater Dei Catholic 14
Steele Canyon 47, Bonita Vista 7
Lincoln 67, Sweetwater 0
Maranatha Christian 49, Southwest 14
Crawford 12, San Ysidro 8
San Diego 40, Montgomery 6
Fallbrook defeated Castle Park by forfeit
Calvary Christian Academy 38, Ocean View Christian Academy 0
Friday, Sept. 14
Non-League
Castle Park at Hoover, 6:30 p.m.
Patrick Henry vs. Bonita Vista at Southwestern College, 7 p.m.
Point Loma at Olympian, 7 p.m.
Chula Vista at Mater Dei Catholic, 7 p.m.
El Cajon Valley at Sweetwater, 7 p.m.
University City at Mar Vista, 7 p.m.
O'Farrell Charter at Southwest, 7 p.m.
Kearny at San Ysidro, 7 p.m.
Otay Ranch at Steele Canyon, 7 p.m.
Eastlake at Valhalla, 7 p.m.
Hilltop at Granite Hills, 7 p.m.
Montgomery at Army-Navy Academy, 7 p.m.
MaxPreps/Top 10 Rankings
Division I: 1. La Costa Canyon (4-0), 2. Torrey Pines (4-0), 3. Cathedral Catholic (3-1), 4. St. Augustine (4-0), 5. Eastlake (3-1), 6. Helix (1-3), 7. San Marcos (3-0), 8, Madison (4-0), 9. Mission Hills (1-3), 10. Otay Ranch (2-2). Others: 11. Steele Canyon (2-1)
Division II: 1. Granite Hills (3-0), 2. Point Loma (2-2), 3. Vista (3-1), 4. Ramona (3-1), 5. Mira Mesa (4-0), 6. Lincoln (4-0), 7. Valley Center (2-2), 8. Poway (2-2), 9. Bishop's (2-1), 10. San Pasqual (2-2). Others: 11. Olympian (1-3), 13. Bonita Vista (0-4), 14. Mater Dei Catholic (1-3), 17. Valhalla (0-3)
Division III: 1. Christian (4-0), 2. Monte Vista (3-1), 3. Brawley (3-1), 4. Central Union (4-0), 5. Santa Fe Christian (3-1), 6. West Hills (4-0), 7. University City (3-1), 8. Morse (2-2), 9. Scripps Ranch (3-1), 10. Escondido (2-2). Others: 16. Hilltop (1-3)
Division IV: 1. Kearny (3-0), 2. San Diego (3-1), Chula Vista (2-2), 4. Del Norte (3-1), 5. Santana (3-1), 6. Mar Vista (3-1), 7. La Jolla Country Day (1-3), 8. Classical Academy (2-1), 9. Fallbrook (1-2), 10. Serra (1-3). Others: 11. Sweetwater (0-4), 16. Montgomery (1-3), 17. El Cajon Valley (0-4)
Division V: 1. Vincent Memorial (3-0), 2. Francis Parker (4-0), 3. Tri-City Christian (3-0), 4. Palo Verde Valley (3-1), 5. Holtville (3-1), 6. Maranatha Christian (3-1), 7. Mountain Empire (3-1), 8. Orange Glen (3-0), 9. Army-Navy Academy (2-1), 10. Southwest (1-2). Others: 11. Castle Park (1-3), 14. San Ysidro (0-4)
Eight-man records: Calvary Christian Academy 3-0, Ocean View Christian Academy, Victory Christian Academy 0-2
Prep Football Pictotorial
Olympian at Hilltop
Photo gallery by Phillip Brents