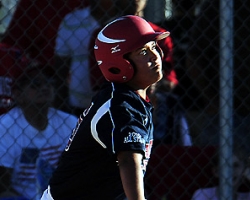 California District 42 Little League's annual all-star tournaments are in full swing and three age-group titles were decided on Tuesday. Eastlake defeated Park View, 12-11, to win the 9-10 Division district pennant while Luckie Waller held off Park View, 8-6, to capture the 10-11 Division district championship and Sweetwater Valley topped Chula Vista American, 7-5, to capture the 11-12 Division title.
The closeness of all three championship games attested to the general parity exhibited by the semifinalists throughout this year's double-elimination tournaments.
In the 9-10 Division title match-up, Eastlake overcame a five-run deficit to win the title. A walk-off walk ended the proceedings. Eastlake finished 4-0 in the nine-team field after recording previous victories against Park View (7-6), Chula Vista American (12-4) and Sweetwater Valley (4-2).
Park View fought back after its first-round loss to Eastlake by scoring four consecutive wins in the losers bracket. Park View defeated Luckie Waller (10-0), Southwest (10-0), Imperial Beach (7-5) and Sweetwater Valley (20-1) to stay in contention for the title.
Luckie Waller went through the 10-11 Division undefeated in four games. The eventual district champions opened with an 8-3 win against Imperial Beach on July 3 and followed with victories against CVA (10-3) and Eastlake (8-6) before meeting Park View in the final.
Park View fought back with three straight wins following a 9-5 loss to Eastlake in the second round of play on July 5. Park View eliminated CVA (11-0), Sweetwater Valley (10-0) and Eastlake (11-8) to gain a berth in the championship game.
Sweetwater Valley had the longest route to travel by winning five games en route to claiming the 11-12 Division championship. SVLL edged Eastlake, 4-3, in a play-in game on July 3 and followed with consecutive victories against Park View (11-1), CVA (8-5) and Luckie Waller (16-2) before reaching the title game against CVA.
In Sweetwater Valley's rematch win over CVA, highlights included a two-run home run by John Freeman and a homer in the third inning by Josh Pagdilao.
Ryan Fleeson hit a grand slam home run in Sweetwater Valley's  first game against CVA on July 6.
Two more divisions were set to conclude with championship games on Wednesday. Luckie Waller defeated Eastlake, 12-1, to claim the district Junior Division title while Luckie Waller edged Sweetwater Valley, 5-4, to force a second Senior Division championship game on Thursday.
District 42 champions next advance to Section 7 play scheduled July 17-21. Eastlake (9-10 Division) advances to games hosted by District 22 Sunbeam while Luckie Waller (10-11 Division) advances to the four-team tournament at District 41 Lakeside National.
Sweetwater Valley will play host to the 11-12 Division and Senior Division Section 7 tournaments while District 41 will host the Junior Division tournament.
For updated scores and brackets, visit the Web site at www.eteamz.com/cad42.