A Chula Vista police officer spent less than one month on desk duty after an August video showed him tackling a 16-year-old girl at Loma Verde Park.
The incident occurred on Aug. 15 last year, and while an investigation is still ongoing, the officer has been back in the field since Sept. 12, according to the Chula Vista Police Department.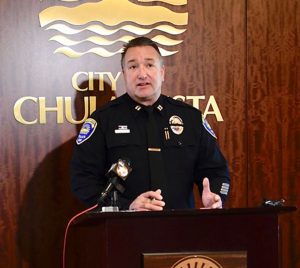 Police liaison Phil Collum said the department was able to determine that the officer, who cannot be identified during an investigation, did not pose a risk to the community or the general public.
However, the investigation is still being taken seriously, he said.
The girl was reportedly with friends when they were approached by the CVPD officers, and she was tackled after she allegedly threw a plastic water bottle at the ground, striking an officer.
A video circulated on social media showing the takedown, which preceded her arrest on suspicion of battery of a police officer.
The officer involved in the altercation was initially relegated to desk duty while an internal investigation took place.
Collum said the reason the investigation is still ongoing is that it is a complex issue that involved "a lot of different perspectives on the event."
The original incident allegedly began after police officers saw what appeared to be a group of teens flashing what they say were gang signs in the park.
Collum said there is no timetable for the investigation's completion.