Will there be a March Madness in 2021? The NCAA likely cannot afford to pass up the mega publicity and mega money it lost when the mega hoops tournament was canceled last year upon the declaration of the COVID-19 pandemic.
The coronavirus pandemic is still with us a year later and there are signs that it may make a mess of the NCAA's plans again.
San Diego State University, perhaps the college program with the largest imprint on the sport locally at the present time, has had several games canceled for rescheduled this season.
Most recently, the Aztecs (15-4 overall, 9-3 in Mountain West Conference) had their two-game series (Feb. 3 and Feb. 5) against the University of New Mexico Lobos in Lubbock, Texas, canceled by the Mountain West Conference just hours before the Aztecs were to depart by plane.
SDSU is not alone.
The University of San Diego has paused its men's program for a third time this season after revealing a positive test result within the USD program. The schedule pause will last a period of 14 days. The Toreros canceled six conference games during this period and will not resume play until Feb. 18 at Santa Clara.
UC San Diego is 4-5 with 12 canceled games. Point Loma Nazarene University is 3-0 with four postponed games. San Diego Christian College, based in Santee, is 1-8 with eight canceled or postponed games.
San Diego Christian, which competes at the NAIA level, is set to resume play with upcoming home games at the Joan Kroc Center against William Jessup University (Feb. 13) and The Master's University (Feb. 19-20).
Torero timeout
Despite having 10 games either postponed or canceled on its schedule so far, USD head coach Sam School said the program remains resilient.
"Our program has and will continue to have a very disciplined and determined approach to the two competitors on our schedule — the teams we face and COVID-19," Scholl said. "We will continue to pursue being the best versions of ourselves each day. We are excited for our return to the court to do what we love together."
It's been rough treading the dangerous waters of the pandemic from the start.
The University of San Diego announced on Nov. 20 that the men's basketball program would pause its season for a 14-day period because of a positive COVID-19 test result within the program. The initial schedule pause resulted in the Toreros moving their season opener back to Dec. 9, an 83-56 non-conference loss at UCLA.
The Toreros held their home opener on Dec. 14 — a 79-72 non-conference loss to Nevada-Reno — and picked up their first win of the 2020-21 season on Dec. 16: a 70-61 victory at Cal Poly San Luis Obispo.
USD played another game — an 85-53 loss at UC Irvine on Dec. 19 — before pausing the men's basketball schedule for a second time on Dec. 20. Three games were canceled: Dec. 21 at the University of Arizona, Dec. 22 against visiting Long Beach State and Dec. 23 against Cal State Fullerton.
The Toreros resumed action Dec. 31 with the onset of West Coast Conference play. USD dropped its opening three WCC games — 70-62 at USF, 79-63 to visiting Santa Clara and 72-69 in overtime at Loyola Marymount University — before taking down host Portland, 78-70, on Jan. 23 for their first conference win.
A highly touted home court matchup against nationally No. 1-ranked Gonzaga University followed on Jan. 28 that resulted in a 90-62 loss.
A Jan. 30 home game against LMU was postponed, followed by the cancelations of six WCC contests: Feb. 2 against visiting BYU, Feb. 4 at Pepperdine, Feb. 6 against visiting Pacific, Feb. 8 against visiting St. Mary's, Feb. 11 at Pacific and Feb. 13 at BYU.
The Toreros schedule is set to resume with the game at Santa Clara, followed by a Feb. 20 road game at Gonzaga, a Feb. 25 home game against Portland and a Feb. 27 home game against Pepperdine.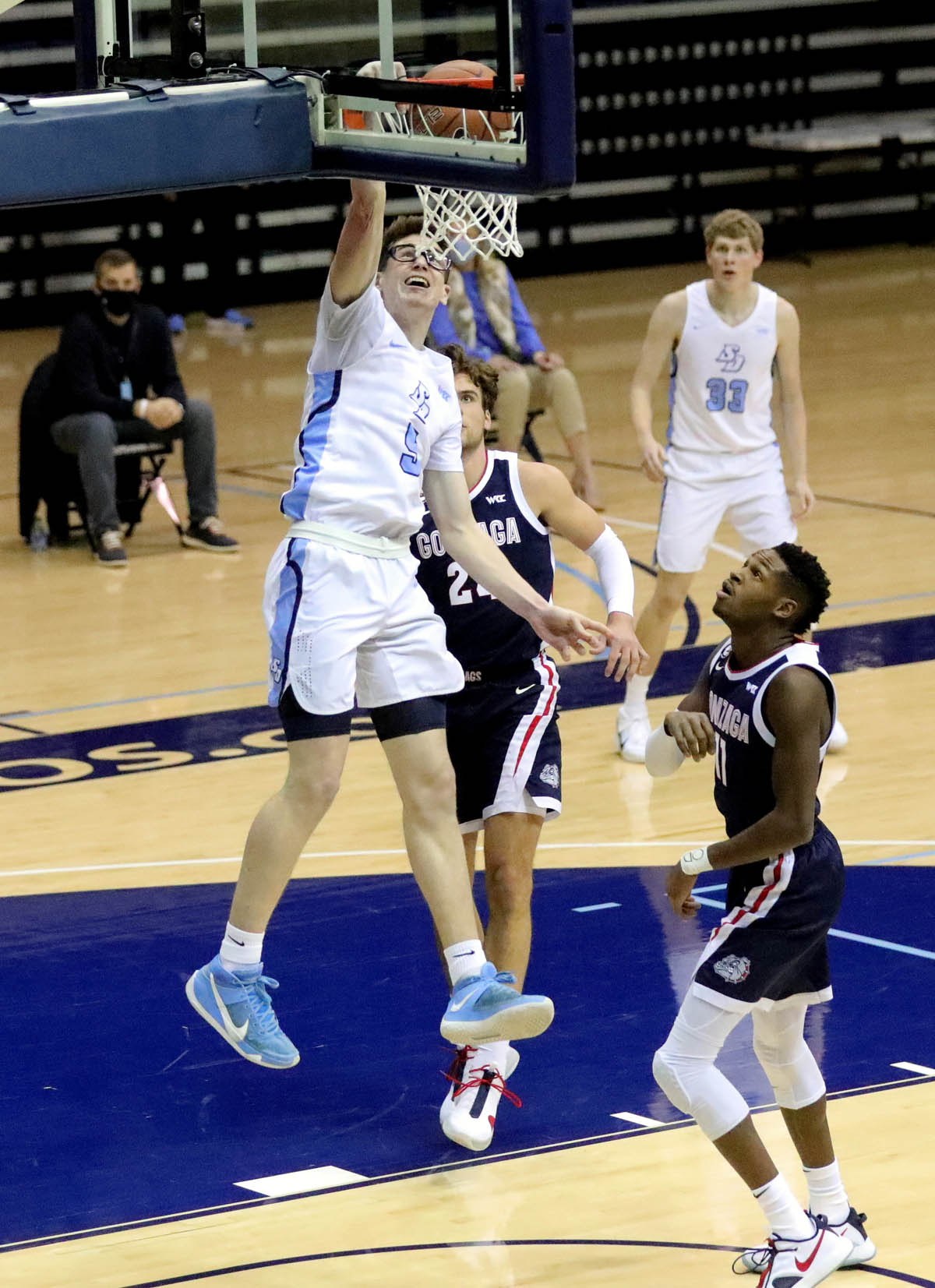 It appears that USD may play 13 of its 23 scheduled games. The Toreros are 2-7, 1-4 in conference play, at the latest schedule pause.
San Diego prep alumni on this season's USD team include junior Finn Sullivan (Torrey Pines) and freshman Scotty Prunty (Cathedral Catholic).
Sullivan has appeared in all nine games to date while averaging 30.7 minutes on the floor with a 7.6 scoring average and 2.7 rebounding average per game.
Sullivan led the Falcons to a 28-4 record his senior year while averaging 18.7 points per game, 8.3 rebounds per game and 5.5 assists per game.
SDSU has had a smoother ride through an otherwise bumpy season.
The Aztecs extended their current winning streak to six games (their longest of the season) after sweeping visiting San Jose State in MW encounters Monday (85-54) and Wednesday (77-55). The blowout victories created some history as SDSU became the first Division I team to win five consecutive games by at least 25 points since Stanford accomplished the feat during the 1999-2000 season.
SDSU enters its next game Feb. 18 at Fresno State with a 13-game winning streak against teams from California.
Jordan Schakel led SDSU in scoring in Monday's game with 23 points while Nathan Mensah and Joshua Tomaic both dropped in 12 points. Keshad Johnson led the Aztecs with 13 rebounds.
Schakel poured in 24 points on Wednesday.
The NCAA had trouble filling what bowl games were available as the college football season came to a close in December. SDSU elected not to pursue a bowl game opportunity following its 4-4 season while Boise State University and the University of Southern California elected to end their seasons following runner-up showings in their respective conference championship games.
Will the same scenario repeat for college basketball?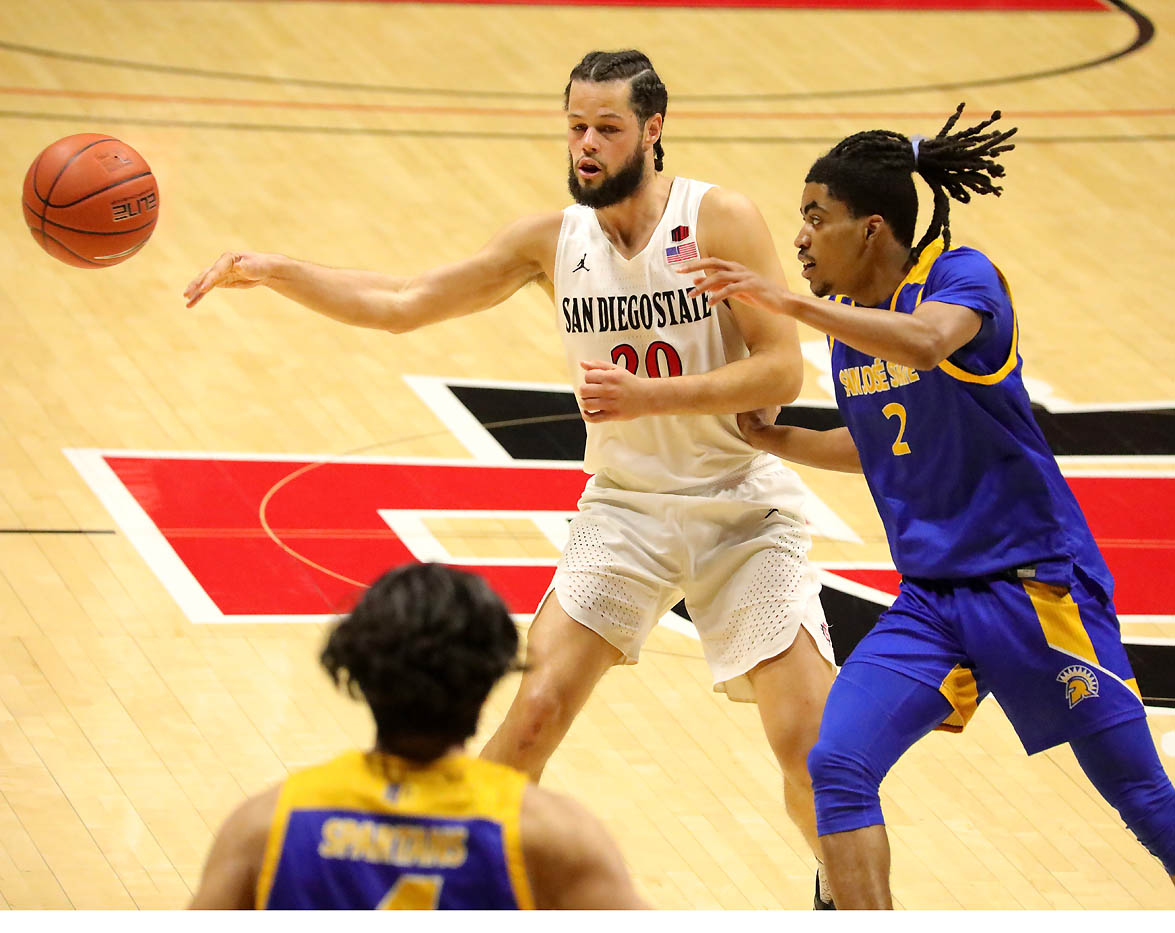 Next level
Southwestern College placed eight players off its 2018-19 team into four-year university programs: Kevin Collins-Eason (Regis University), Marc Combs (San Diego Christian), Jordan Cooke (Sacramento State), Quincy Ferebee (University of Portland), Joshua Roberts (Robert Morris University), Jose Serrano (Eastern New Mexico), Tyler Simmons (Cal State San Bernardino) and D.J. Wilson (Master's University).
Ferebee appeared in 27 games for the Pilots in 2019-20. His 52 assists ranked second on the team. Serrano appeared in 27 games during the same season, averaging 10.6 points per game.
Roberts appeared in 30 games in 2019-20, starting 29, while averaging 11.4 ppg.