Could it be happening all over again?
The 2020 coronavirus shutdown was a nightmare for everyone, including youth, high school, college and professional sports teams.
The 2020 fall and winter prep seasons wound up being delayed until spring 2021. The NCAA's 2020 March Madness basketball tournament was canceled altogether, and college teams had major problems completing games due to COVID-19 outbreaks en route to qualifying for the 2021 tournament.
Pro basketball and hockey suspended play in March 2020 and returned to the playing arena later that summer to crown league champions while pushing the traditional fall opening date of the following season, which faced off in mid-winter.
The 2020-21 seasons in both the NBA and NHL were shortened, though champions were once again crowned.
The rapid spread of the current Omicron variant has started to cause its own brand of mayhem.
High school football games were shuttered for many teams because of outbreaks from the original strain and the Delta and Mu variants. Now high school basketball games are being affected from the new variant with several games canceled at holiday hoops events.
The list keeps growing.
The San Diego Gulls have had six of their American Hockey League games postponed so far, including three home games. In response, the AHL has extended its regular season six days to allow teams time to make up postponed games.
But college sports once again appear to be bearing the brunt.
The SDCCU Holiday Bowl was canceled just hours before kickoff on Dec. 28 when UCLA announced it did not have enough players at all positions to field a team against North Carolina State and bowl officials could not find a replacement team.
The Holiday Bowl was the fifth bowl game canceled this season due to the virus.
Bowl officials awarded the game's championship trophy to NC State in a conciliatory move.
It was a rude trip westward for fans who made the cross-country trek for the game at Petco Park, who instead were left in drizzle in America's Finest City.
It was a nasty outcome for all the hard work that went into converting the Padres' home field into a first-class football venue.
The game was expected to draw 30,000 fans, placing a reconfigured Petco Park at about 75 percent of capacity.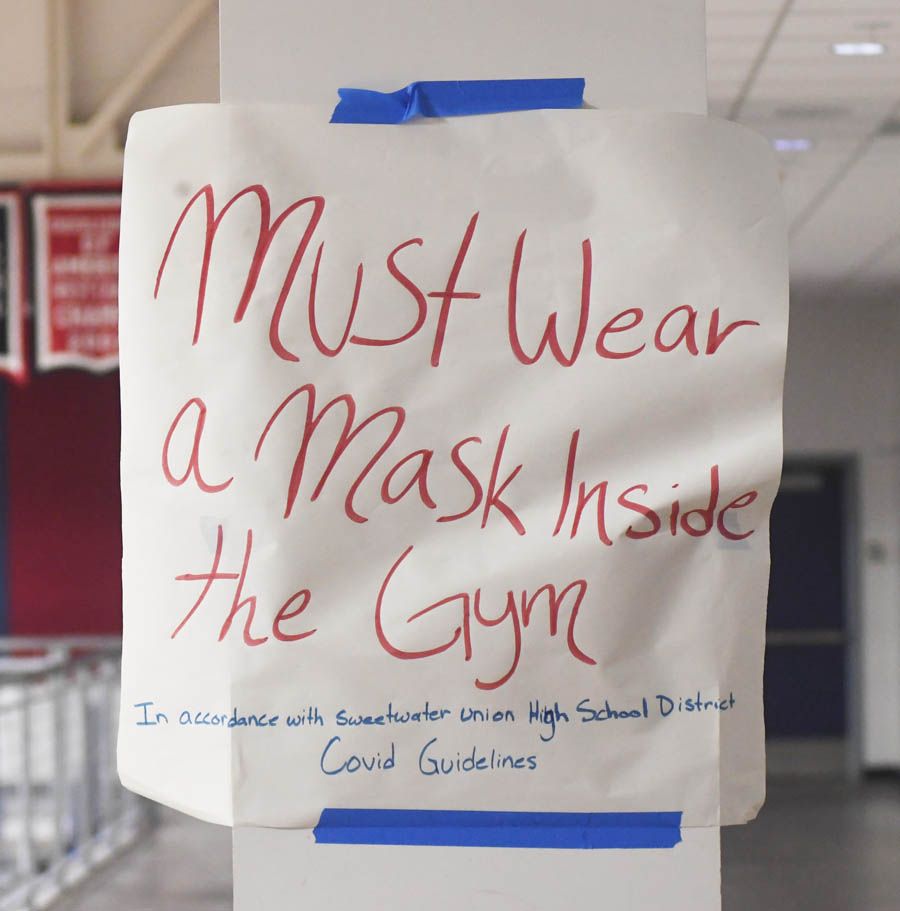 SDSU postponed Wednesday's scheduled Mountain West men's basketball game against visiting Fresno State because of COVID-10 related concerns within the Fresno State program. Conference officials said the game, if it cannot be rescheduled, would be declared a no contest.
With the postponement, the Aztecs' next scheduled game will be against 20th-ranked Colorado State (11-0) on Saturday, Jan. 8. The game will be played at Viejas Arena with a 1 p.m. PT tip-off and will be broadcast on the CBS-TV network.
SDSU was originally scheduled to play Nevada Reno on Saturday but the Wolf Pack had to bow out because of COVID concerns in their program.
San Diego State defeated the UNLV Runnin' Rebels, 62-55, in Las Vegas last Saturday to improve to 9-3 on the season.
Viejas Arena has since issued an updated series of new protocols for fans,
Beginning Jan. 18 all individuals eligible for the COVID-19 booster will be required to show proof of the booster in order to attend games at Viejas Arena.
There will also be mandatory mask-wearing for those two years and older.
The new guidelines are strict, but someone has to take the grave situation seriously.
Aztec Holiday Classic
Montgomery High School hosted its annual Aztec Holiday Classic Dec. 27-30. The opening two days of the coed tournament, believed to be among the longest-running of its nature in the section, went smoothly for the teams participating.
The final two days of the tournament featured a rather rocky ending.
Only two of the four scheduled boys games could be played on the third day after the Valhalla-Morse and Sweetwater-Montgomery games were canceled because of COVID-19 test results.
Teams regrouped the following day, however, with two boys games completed. Valhalla defeated Foothills Christian, 73-66, in a consolation matchup and Montgomery topped Eastlake, 71-61, in the championship game to close out tournament play.
"The tourney as a whole was incredibly solid days one and two with a solid mix of South Bay and East County teams," said Montgomery coach Ed Martin, who served as tournament director. "On Wednesday (Dec. 29) we had multiple teams drop out, so we were only able to play two boys basketball games. Thankfully Thursday (Dec. 30), we were able to have two boys games with the two best teams from each pool playing in the championship."
Eastlake won its pool with a 3-0 record while Montgomery was unbeaten in shortened pool play.
Eastlake completed all four of its scheduled games, opening the tournament with wins over Point Loma (62-54 on Dec. 27), Foothills Christian (71-49 on Dec. 28) and Helix (70-60 on Dec. 29) before matching up against the host Aztecs in the tournament championship game.
Montgomery finished pool play 2-0 with wins over Morse (67-46 on Dec. 27) and Valhalla (67-38 on Dec. 28). The Aztecs (10-2) finished the tournament 3-0 following the championship game victory against the Titans (7-4).
"Montgomery versus Eastlake was a battle," Martin said. "The youth of Montgomery versus battled-tested players for Eastlake who play incredibly hard."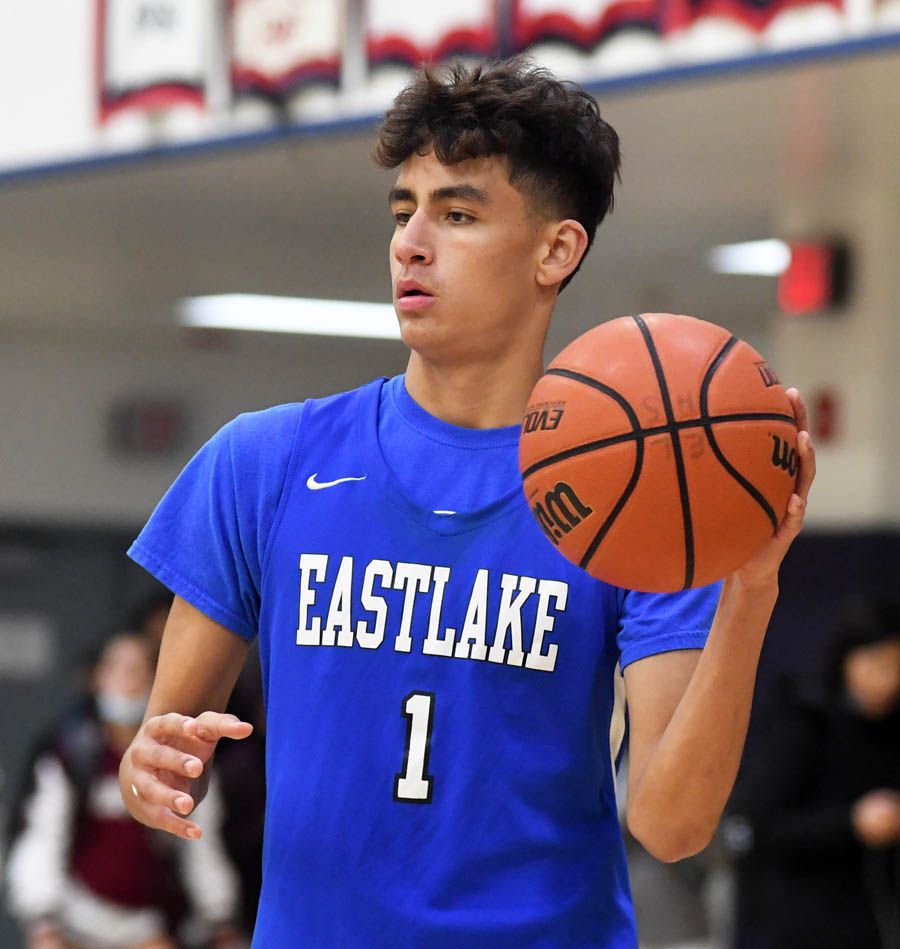 Eastlake's Xavier Rubio poured in 64 points in the Titans' three pool games to earn his team a berth in the tournament championship game. Photo by Phillip Brents
Eastlake took a 33-28 halftime lead, but Montgomery rallied to tie the game at 48 through three quarters. The Aztecs pulled away on a late three-pointer by Alek Sanchez with 1:02 left to play to put the hosts ahead 65-59.  The last minute expired with Montgomery winning by 10 points.
Three Aztecs earned selection to the all-tournament team: Alek Sanchez, J.J. Sanchez and Xair Mendez. J.J. Sanchez was named tournament MVP.
Eastlake had two players on the all-tournament team, which was comprised of players on teams that were able to complete the tournament: Xavier Rubio and Carl Luyun.
Rubio dropped in 26 points in a 62-54 win over Point Loma, 15 points in the win over Foothills Christian and had 23 points in a 70-60 win over Helix.
Luyun had 19 points in the win over Helix.
Calvert Esho (Valhalla) and Joseph Hankins (Foothills Christian) rounded out the all-tournament team.
Foothills Christian delivered the upset on the opening day in the boys tournament with a stunning 80-65 victory against Helix. The Knights entered the game with a 1-11 record.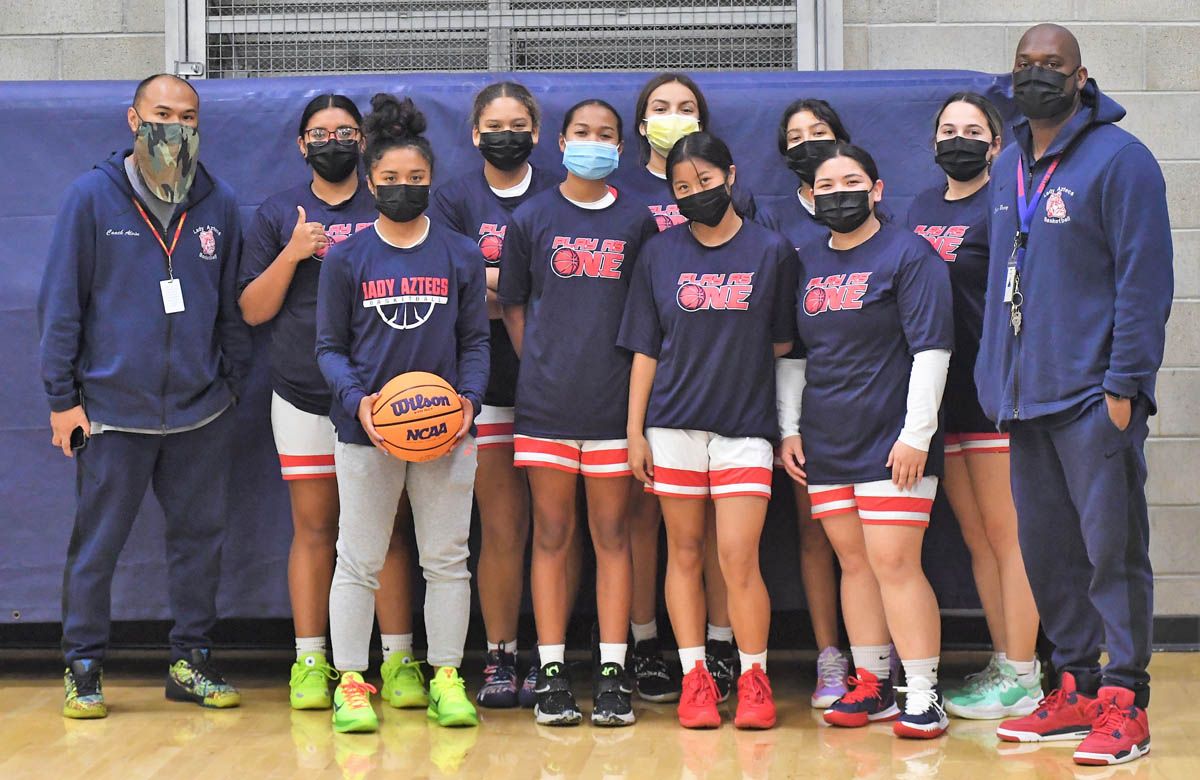 Chula Vista (7-7) and Montgomery (4-3) both represented the Metro Conference in the girls bracket. Both teams finished tournament play Montgomery was 2-2.
Chula Vista defeated Montgomery, 58-42, on Dec. 29. The Lady Spartans concluded tourney play with a 60-31 win over La Jolla. Losses came to Helix (36-35) and Mt. Carmel (66-38).
Montgomery defeated Crawford twice (47-39 on Dec. 27 and 44-39 on Dec. 30) and lost to La Jolla (61-52 on Dec. 28).
Mt. Carmel (13-3) topped Helix (5-3) in the final 69-42.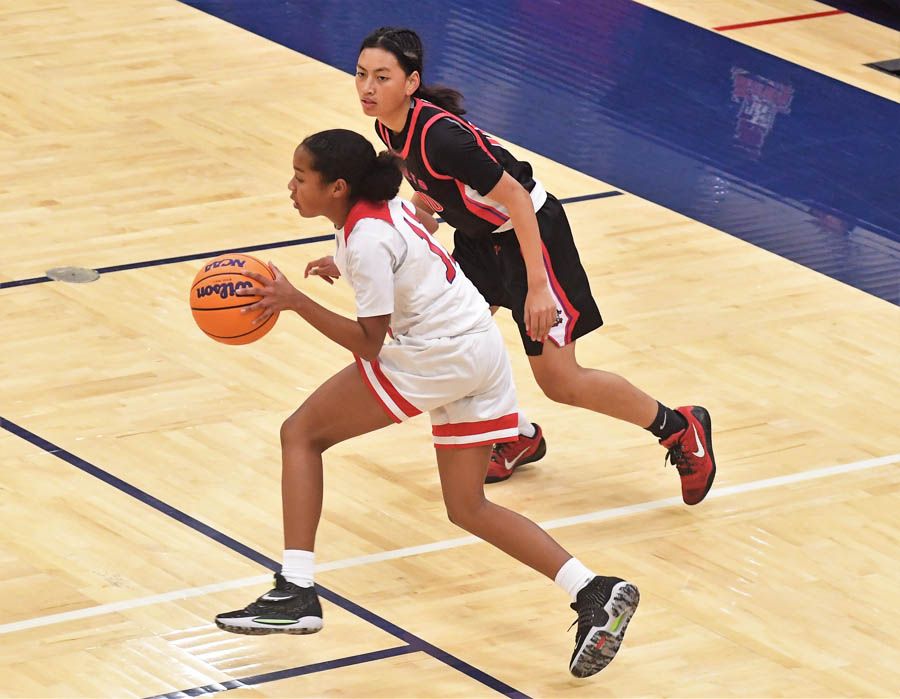 PREP WRESTLING SCOREBOARD
CHRISTMAS SHOWDOWN: A pair of Olympian wrestlers won individual championships at the Dec. 17-18 tournament at Edenpark in San Marcos. Abraham Cline won his 106-pound weight division while teammate Carlos Arreola captured the 113-pound division. As a team, the Eagles placed fourth among the 21 scoring teams.
Rancho Bernardo, braced by six individual champions, finished first in the team standings, followed by Carlsbad and Vista.
Update to Viejas Arena COVID-19 Policies for Men's and Women's Basketball
Beginning Jan. 18 all individuals eligible for the COVID-19 booster will be required to show proof of the booster in order to attend games at Viejas Arena
In accordance with state and county guidelines, San Diego State University has updated its requirements for entry into men's and women's basketball games in Viejas Arena, beginning with the Jan. 18 men's basketball game against UNLV.
Health Verification
In accordance with state and county guidelines, for the 2021-22 season, all guests age two and older are required to present either proof of a completed COVID-19 vaccine series or a negative COVID-19 test. Beginning on January 18, all individuals eligible for the COVID-19 booster will be required to show proof of the booster in order to qualify as having completed the COVID-19 vaccine series.  If you received two doses of the Moderna series more than six months prior to Jan. 18 or of the Pfizer series more than five months prior to Jan. 18, or if you received a Johnson & Johnson vaccine more than two months prior to Jan. 18, you are eligible for a booster.
If guests choose to enter Viejas Arena by showing a negative COVID-19 test result, please note that SDSU requires COVID-19 tests be taken within one day prior to the event in order to comply with state and county guidelines. Guests age 18 and over will also need to provide a matching photo ID with their proof of vaccination or negative test results. Only written reports of COVID-19 testing conducted by laboratories will be accepted as proof; photos of home tests are not acceptable.
SDSU is now offering game day antigen testing for basketball guests via Phamatech. Tests will cost $35, paid online when signing up. No cash or credit cards will be accepted on site. No insurance will be accepted. Appointments can be made in advance here. Tests will be administered in the Peterson Gym Hallway (PG152, enter from 55th street.) beginning 1.5 hours prior to men's basketball games and 1 hour prior to women's basketball games. Test results can take up to 30 minutes and will be delivered via email in PDF format.
Facial Coverings
All guests two and older will be required to wear a face covering that covers both the nose and mouth at all times, unless actively eating or drinking, regardless of vaccination status. Additional signage and security will be implemented for future games to best enforce our mask policies and help keep fans safe.
SDSU's facial covering policy remains in effect and is unchanged. The existing policy complies with updated state and local public health guidelines and is aligned with updated California Department of Public Health (CDPH) guidelines shared this week. California now mandates that individuals wear facial coverings in all indoor public settings regardless of vaccination status and, at SDSU, facial coverings are required indoors in all public and instructional spaces.
COVID-19 Boosters Required
All individuals eligible for the COVID-19 booster will be required to have their booster on file in HealtheConnect by Tuesday, Jan. 18, 2022 to be considered fully vaccinated. Be aware the California State University has implemented a system-wide "not to exceed" deadline of Feb. 28, but SDSU community members must be in compliance by Jan. 18.
Individuals are considered fully vaccinated for six months after their final dose of a two-dose COVID-19 vaccine or for two months after receiving the only dose of a single-dose vaccine, and without a booster. However, if you completed your two-dose vaccine more than six months before Jan. 18, 2022, or your single-dose vaccine more than two months before Jan. 18, 2022, you will no longer be considered fully vaccinated, per U.S. Centers for Disease Control and Prevention (CDC) definitions and will need to get a booster.
SDSU Students, Faculty, Staff
San Diego State University students, faculty and staff, in accordance with the campus COVID-19 policy, will be able to present their HealtheConnect verification to gain entry to Aztec Basketball games. Please note: Unvaccinated faculty, staff and students must have negative test results on file with a test collected within one day prior to the event in order to comply with state and county guidelines. SDSU students are encouraged to enter Viejas Arena for Aztec Basketball games via Gate 4, as this will primarily serve as an SDSU Student entrance.
General Public
While both paper and digital vaccination cards and negative test results will be accepted, the general public is encouraged to utilize the Bindle app.
When using Bindle, guests have two options:
Use a COVID-19 Vaccine Record: Guests can add their COVID-19 vaccination record via Smart Health QR or a photo upload. You will only need to import your information one time to create a single entry pass for the season. The entry pass will provide faster event entry when using the Smart Health QR code. The QR code option is preferred if you have a vaccination record on file with the state of California or one of the approved issuers. To access your QR code for your CA vaccination record, visit https://myvaccinerecord.cdph.ca.gov/.
o Please note that starting on January 18 until the Bindle app is updated on February 1 you will need to bring proof of booster (either a physical vaccination card or photo of your vaccination card) in addition to Bindle.
Use a COVID-19 Test Record: Guests can import their COVID-19 test results for a COVID-19 test collected within one day prior to the event in order to comply with state and county guidelines.If you choose to verify through testing, you will need to upload new, negative COVID-19 tests prior to each event; you will not be able to secure a single-entry pass for the season.
Click the button below for more information including step-by-step instructions on how to use Bindle.
Bag Policy
To expedite entry into Viejas Arena it is recommended that you do not bring a bag. If you must bring a bag, it is highly suggested it be a clear plastic, vinyl or PVC tote bag. This is to reduce staff contact with guests' belongings. Bags can be no larger than 16" x 8" x 16". Not backpacks allowed.