Lee Majors starred as The Six Million Dollar Man for five seasons on ABC-TV (1973-78). South County now has its own $6 Million Man after 2021 Eastlake High School graduate Marcelo Mayer was drafted fourth overall in the opening round of this year's Major League Baseball amateur draft by the Boston Red Sox.
The slot value as the No. 4 is worth a signing bonus of $6,664,000.
University of Louisville catcher Henry Davis, the top pick in this year's draft by Pittsburgh Pirates, received a slot value of $8,415,300.
Those are figures difficult to refuse.
Mayer was in plain sight on the field wearing a Red Sox jersey during batting practice at Monday's MLB All-Star Game in Denver. He has expressed an interest in signing his first professional contract as soon as possible to begin his pro baseball odyssey.
Mayer called the draft experience "totally amazing" in media interviews.
"It's a dream come true," he said.
Boston is currently in first place in the American League East Division with a 55-36 record — 1.5 games ahead of the Tampa Bay Rays (53-37).
Overall, four South County locals were tabbed by MLB organizations in this year's draft, making it a bumper crop among local baseball talent.
Besides Mayer, two fellow Eastlake alums also went in this year's draft: pitcher Grant Holman (University of California-Berkeley) and shortstop Ben Ramirez (University of Southern California). They were joined by 2021 Bonita Vista High School graduate Daniel McElveny.
McElveny's rights also were taken by the Red Sox in the sixth round, the 166th player overall, while Holman was right behind the multi-talented McElveny in the same round as the 188th pick by the Oakland A's.
Ramirez was selected in the 13th round, the 384th player overall, by the Seattle Mariners.
The four South County draft picks continue a trend set in recent years.
Two local selections — Eastlake High School alums Casey Schmitt (49th overall by the San Francisco Giants) and L.J. Jones (154th overall by the St. Louis Cardinals) — heard their names called in the five-round 2020 draft.
Eastlake High School graduate Keoni Cavaco (13th overall by the Minnesota Twins) represented South County in the 2019 draft for a total of six former Titans tabbed in the draft over the past three years.
"It's really exciting seeing the kids getting the chance to be part of a professional organization and the opportunity to play in the big leagues someday," Eastlake High school baseball coach David Gallegos said.
This year's draft featured 20 rounds and a total of 612 picks.
The first round took place Sunday night in which 36 players were drafted. Rounds 2-10 took place on Monday. Rounds 11-20 wrapped up Tuesday.
The gem, of course, is the 6-foot-3, 188-pound Mayer, who is just 18. Some analysts had tabbed the Eastlake standout as possibly the No. 1 pick in this year's draft.
Multiple reports said Mayer elected to sign with Boston after two other clubs interested in him offered him less than the slot value signing bonus.
"He's really nice at the No. 4 pick," Gallegos said. "He's excited. He just wants to play baseball."
Gallegos rates Mayer behind only Adrian Gonzalez, the No. 1 pick in the 2000 MLB draft by the Florida Marlins, among the top players ever to come out of Eastlake High School.
A five-time all-star (2008-11, 2015), four-time Gold Glove award-winner (2008, 2009, 2011 and 2014), two-time Silver Slugger award-winner (2011, 2014) and MLB RBI-leader (2014), Gonzalez played for the hometown San Diego Padres from 2006-10.
He received a $3 million signing bonus 22 years ago for comparison.
Mayer, the reigning San Diego Section Player of the Year, led the Titans (25-10) to their second Open Division championship in as many completed seasons with a .392 hitting average, 46 runs scored, 45 RBI, six doubles, 14 home runs and 18 stolen bases in 34 game appearances.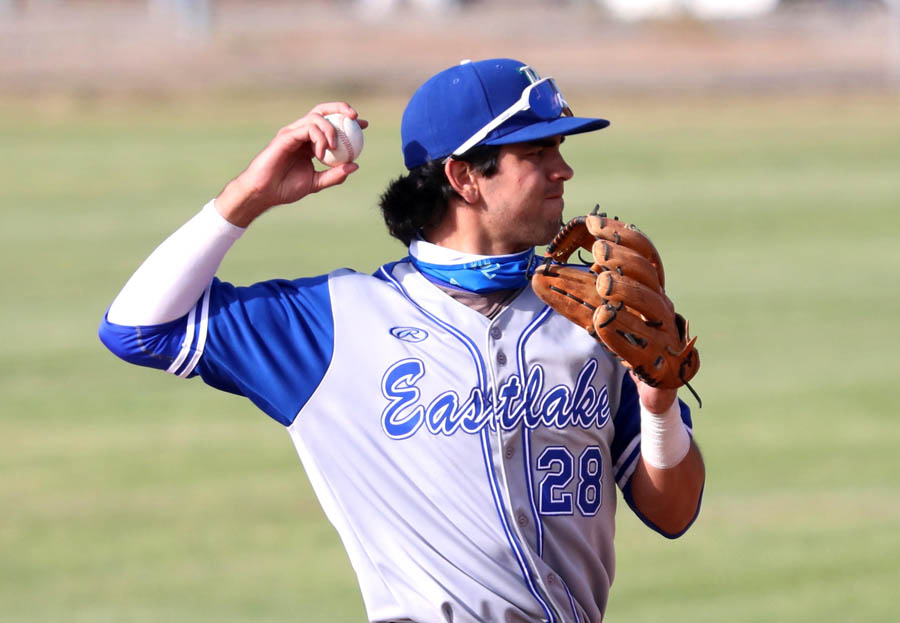 He led the team with 137 plate appearances and 38 hits. He received 31 walks courtesy of opposing pitchers and struck out just eight times. He recorded a .555 on-base percentage and .886 slugging percentage.
He finished his four-year varsity career with a cumulative .363 hitting average, 62 runs scored, 58 RBI and 17 home runs in 51 games.
"Everyone pitched around him (this season)," Gallegos said. "They wouldn't give him anything good to hit. When they did, he hit the heck out of it. His average would have been a lot higher if he had more opportunities."
Mayer, who got his start at Eastlake Little League on the 10U All-Star team, called it an honor to "play with a classy organization like this," he said in referring to the Red Sox.
"My main goal is to win a World Series with the Red Sox before anything else," Mayer told the media via a Zoom interview at this week's MLB All-Star Game.
"The ultimate goal is to improve everything, and just ton be the best version of myself offensively and defensively."
Once signed, Mayer (who incidentally grew up as a Yankees fan) will likely report to the Florida Complex League Red Sox in Fort Myers, Fla., before climbing the ladder to the MLB level.
He'll likely play at the minor league level for the next few years.
"The main goal is always to become a professional, a major-leaguer," he said in a Zoom interview. "But I don't really have a certain set date."
"He's going to have to adjust to the velocity of the ball, which you don't see that much of in San Diego, and he's going to be playing against the best guys in the country," Gallegos noted.
Both Holman and Ramirez are coming from the college ranks and should be a bit more seasoned in the nuances of the game than either Mayer or McElveny at this point of their careers.
Both former Titans played together during the 2016 and 2017 seasons. Eastlake finished 32-4 in 2017 as Open Division champions after placing runner-up in the division with a 29-5 record in 2016.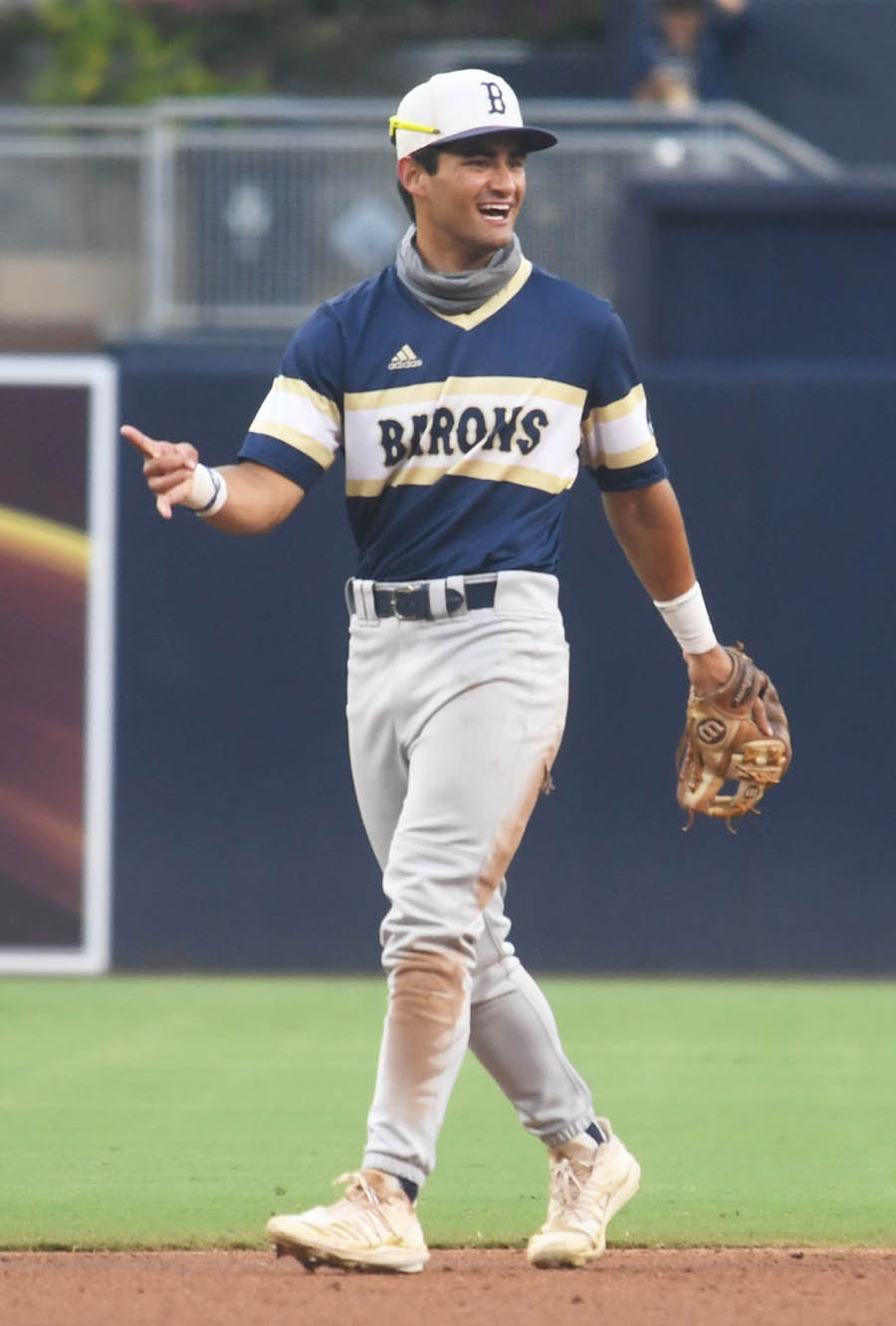 Swinging Baron
McElveny, who played on Chula Vista American Little League's Minor A team in 2012, is known for his versatility at several field positions.
He had significant playing time in last month's San Diego Padres High School All-Star Game while representing the Barons.
He made it to the finals of the pre-game home run derby before finishing runner-up to Granite Hills' Grant MacArthur.
McElveny led the Barons this season with a .435 hitting average with 37 runs scored, 22 RBI, nine doubles, two triples, five home runs and 23 stolen bases. He posted a 0.968 fielding percentage and even pitched in one game.
In 60 varsity games at Bonita Vista, he recorded a .347 hitting average, 0.476 on-base percentage, 48 runs scored, 28 RBI and 27 stolen bases.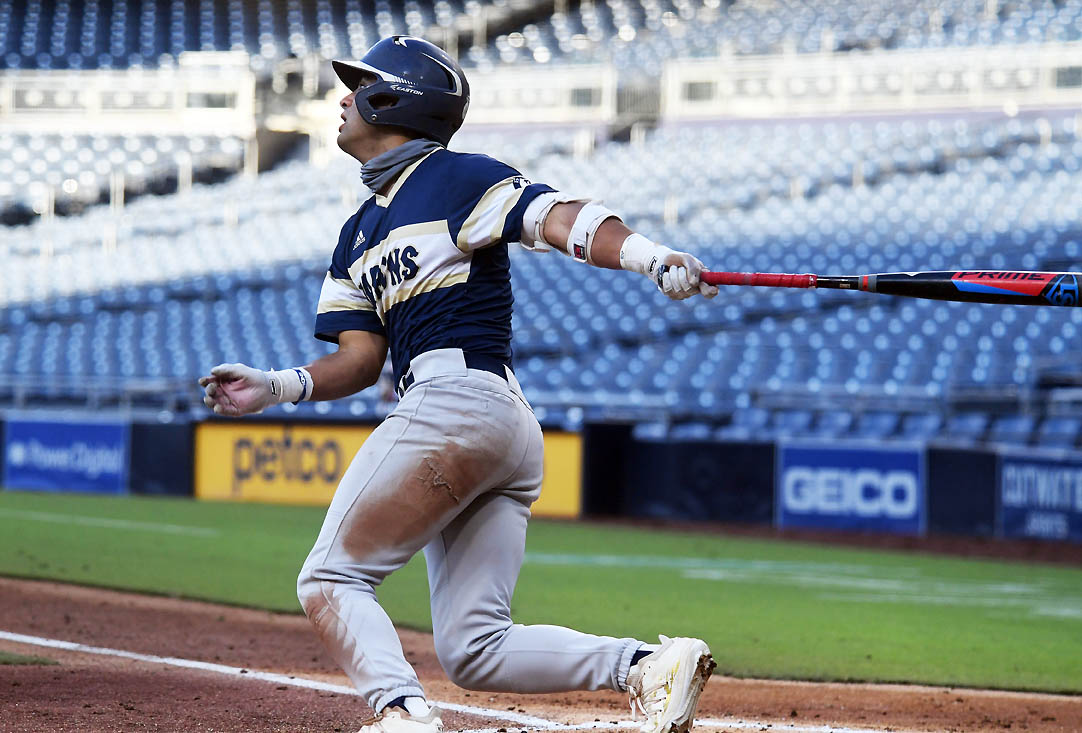 McElveny's selection by the Red Sox made a splash among BVHS staff, students and alumni.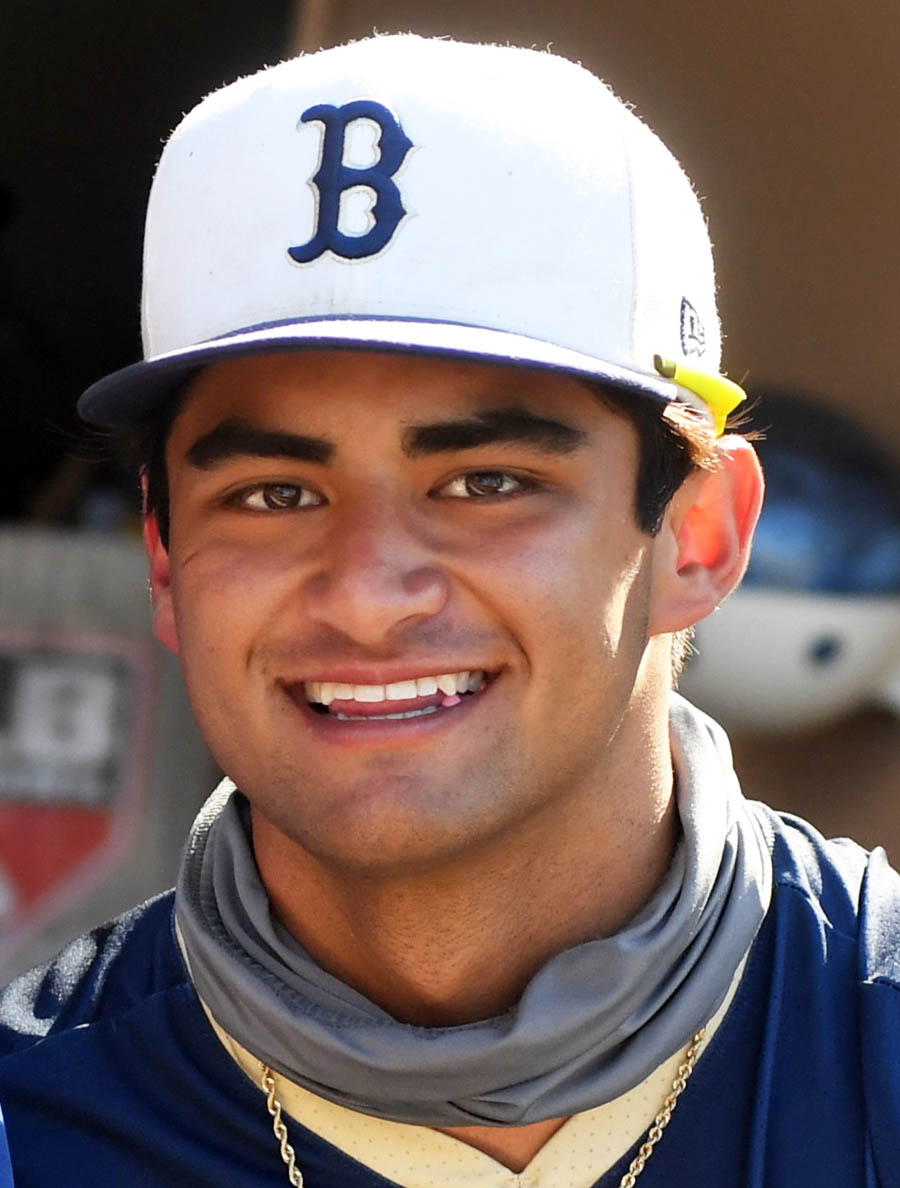 "It's a great day for Bonita Vista High School and the Baron baseball team," Bonita Vista athletic director Tyler Arciaga said." Being drafted in the sixth round is a huge testament to his work ethic and his family and coaches who helped mold him. He epitomizes the true meaning of being a student-athlete by being able to carry a 4.05 GPA while playing at such a high level. We are all proud of Daniel and look forward to seeing his growth in the Red Sox organization."
McElveny is the first draft pick at BVHS since current head coach Dave Palet took charge in 2019.
Palet called McElveny a "tremendous leader."
"The entire team followed Daniel in 2021," Palet said. "He did anything and everything to help the team win league this year. He played shortstop, catcher, pitcher, second base and all three outfield positions.
"He was a straight A student and puts the team first in every situation. The Red Sox got a tremendous player and an even better person."
The Barons finished 11-1 in Mesa League play, 19-11 overall, by advancing as far as the third round in the Division I playoffs this spring. Bonita Vista lost twice in the double-elimination bracket to eventual division champion Granite Hills.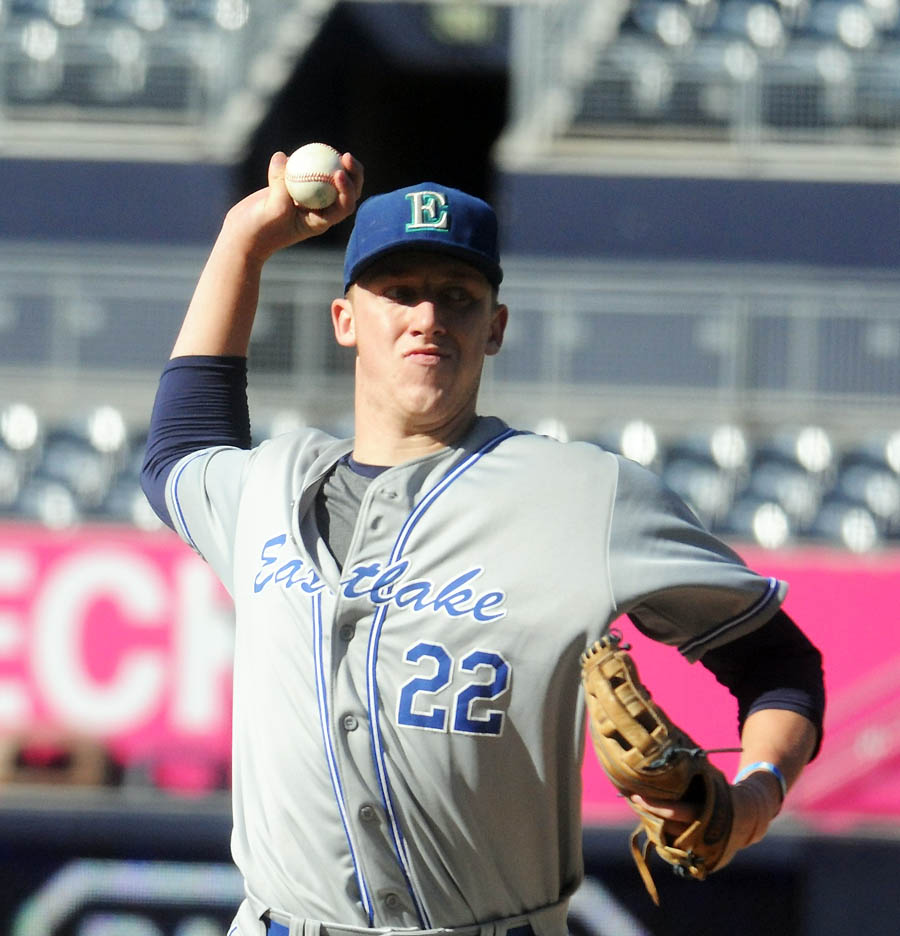 Golden Bear
Holman appeared in the 2013 Little League World Series with Eastlake Little League as the United States Division champion and subsequently earned honors as the 2017 San Diego Section Player of the Year and 2018 section Pitcher of the Year during an equally celebrated career at Eastlake High School when the Titans finished as the top team in California.
The former Titan played three years at the University of California-Berkeley where he served as the Golden Bears' starting first baseman and No. 2 pitcher in the weekend rotation.
He was one of four Cal players taken in this year's draft and one of the most physically imposing at 6-6 and 240 pounds.
As a junior this year, he was 1-3 on the mound with a 3.83 earned-run average with 46 strikeouts in 47 innings.
His fastball has touched 97 mph at times and his command of it has improved after exclusively devoting himself to pitching this season. He still needs to work on his control, according to scouting reports.
At the plate, he hit .272 with four home runs and 24 RBI in 42 games during the 2019 season.
Holman finished his Eastlake career as one of the program's most decorated players with a 29-1 pitching record, 1.10 ERA, .390 hitting average, 20 home runs and 80 RBI.
"Grant is popping it at 96 mph," Gallegos said. "He's a big guy and I see him playing in the big leagues one day."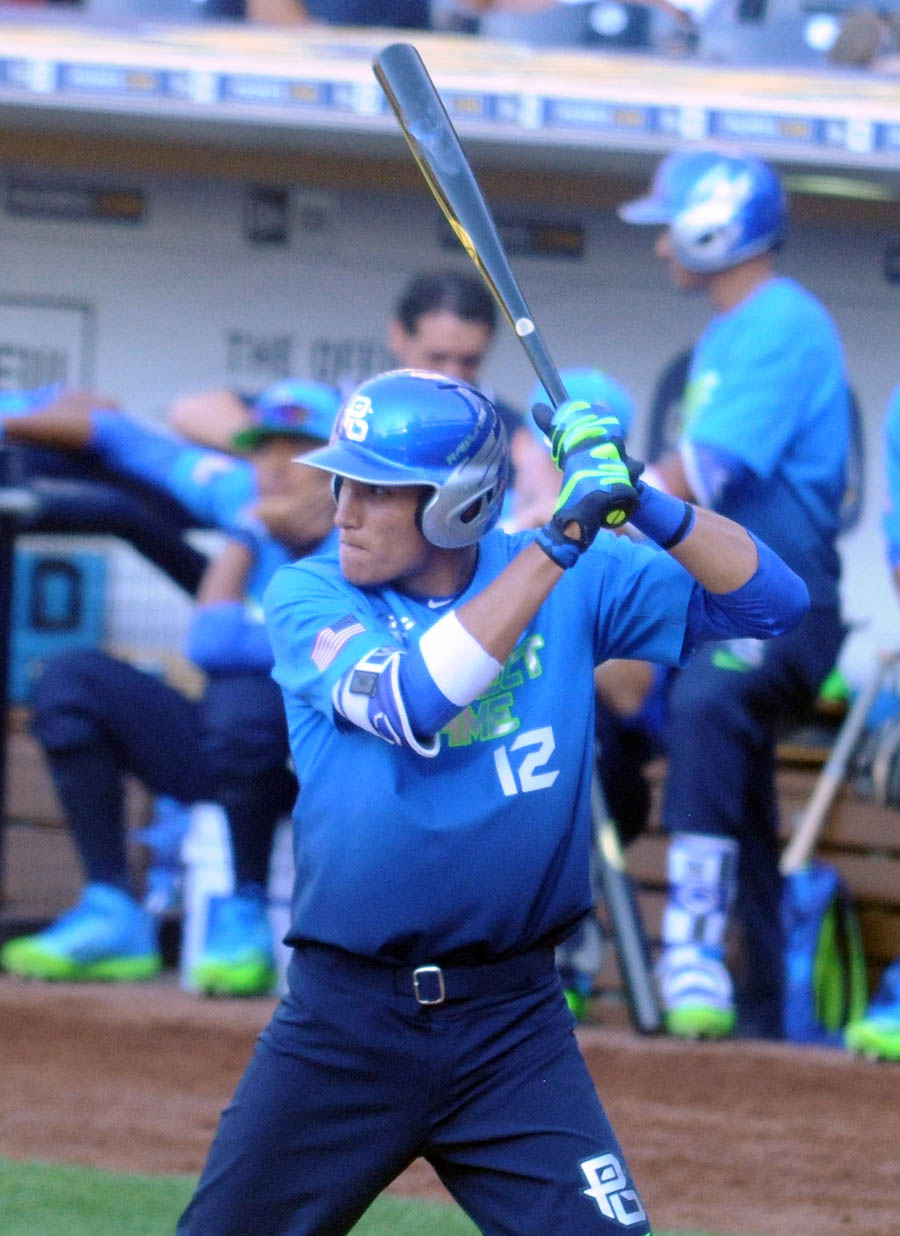 Trojan horse
Ramirez, who appeared in the 2016 Perfect Game All-American Classic at Petco Park, played four seasons at the University of Southern California. He led the Trojans with a .304 hitting average this spring as a redshirt junior with 25 runs scored, 54 RBI (most on the team since 2010), 10 home runs and 101 total bases. He started all 51 games for USC (25-26, 13-17 in Pac-12 play).
At 6-3 and 200 pounds, he has size in the infield. His collegiate statistics include a career .286 batting average, 15 home runs, 23 doubles, five triples, 108 RBI and 74 runs scored. He earned All-Pac-12 recognition this year after recording 19 multi-hit games and 15 multi-RBI games.
He hit .445 with four home runs and 35 RBI in 2017 with Eastlake.
"Ben has got a lot of potential," Gallegos said. "He can run, has a strong arm, good glove and swings with power."
Some observers thought that SDSU redshirt sophomore Brian Leonhardt, yet another Eastlake High School graduate, might be selected in this year's draft but that did not happen. However, five Aztecs were drafted.
2021 Major League Baseball Amateur Draft
First Round
Marcelo Mayer (Eastlake), fourth overall, $6,644,000 slot value bonus, Boston Red Sox
Sixth Round
Daniel McElveny (Bonita Vista), 166th overall, $255,300 slot value bonus, Boston Red Sox
Grant Holman (Eastlake/Cal-Berkeley), 188th overall, $306,800 slot value bonus, Oakland A's
13th Round
Ben Ramirez (Eastlake/USC) 384th overall, N/A slot value bonus, Seattle Mariners
Five SDSU players taken in 2021 MLB draft
Mike Jarvis (second base) — 163rd overall, sixth round (Pittsburgh Pirates)
Wyatt Hendrie (catcher) — 193rd overall, seventh round (Pittsburgh Pirates)
Michael Parades (pitcher) —549th overall, 18th round (Minnesota Twins)
Matt Rudick (center fielder) — 382nd overall, 13th round (N.Y. Mets)
Jaden Fein (right fielder)— 443rd overall, 15th round (Washington Nationals)
PRO BASEBALL: ALUMNI WATCH
Keoni Cavaco: The former Eastlake Titan is currently playing for the Fort Myers Mighty Mussels, the Low-A affiliate of the Minnesota Twins. In 140 at-bats this season, he has logged 39 hits, one home run, a .279 hitting average, 16 RBI and scored 22 runs.
Casey Schmitt: The former Titan is currently playing for the San Jose Giants in the Low-A West League. In 45 games and 175 at-bats, he is hitting .234 with nine doubles, eight home runs, 23 RBI and has scored 26 runs.