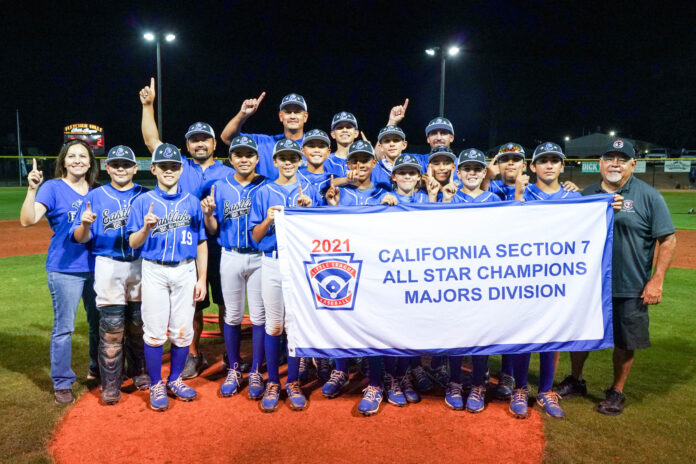 The road to the Little League World Series has gotten a lot shorter for Eastlake Little League's high-powered 12U all-star team after capturing California District 42 and California Section 7 championships in the span of a 10-day period.
Eastlake defeated Sweetwater Valley Little League, 4-0, to wrap up a perfect 4-0 showing in the district championship tournament July 10 at Park View Little League.
The newly crowned District 42 champions then extended their winning streak to seven games by defeating District 41 champion Fletcher Hills, 8-2, Tuesday in a game played at Fletcher Hills Little League.
Eastlake advances to compete in the 10-team Southern California divisional championship tournament hosted July 24 to Aug. 1 by California District 62 Fountain Valley Little League.
The next step beyond that would be to advance to the Little League World Series West Region tournament in San Bernardino — the last step in the qualification path to the iconic Little League World Series itself in South Williamsport, Pa.
"It's a very exciting time for our league and our 12U All-Stars," Eastlake Little League president Alis Nicolaus underscored. "To have the opportunity to compete within such a great district of leagues is a tough task on its own, but to come out as victors really solidifies how hard these players and coaches have worked.
"With the loss of Little League play last year due to the pandemic there was a lot of excitement this year when we finally hit the fields after such a long pause, especially since our group of 12s last year was a very solid group and had potential to make a run of their own. This year I think our players and coaches are not only playing for themselves but for them as well since they lost their opportunity due to the pandemic."
This year's ELL team is certainly carrying a load — and unloading during games. The District 42 champions have outscored their seven opponents 63-3 so far, registering six shutouts.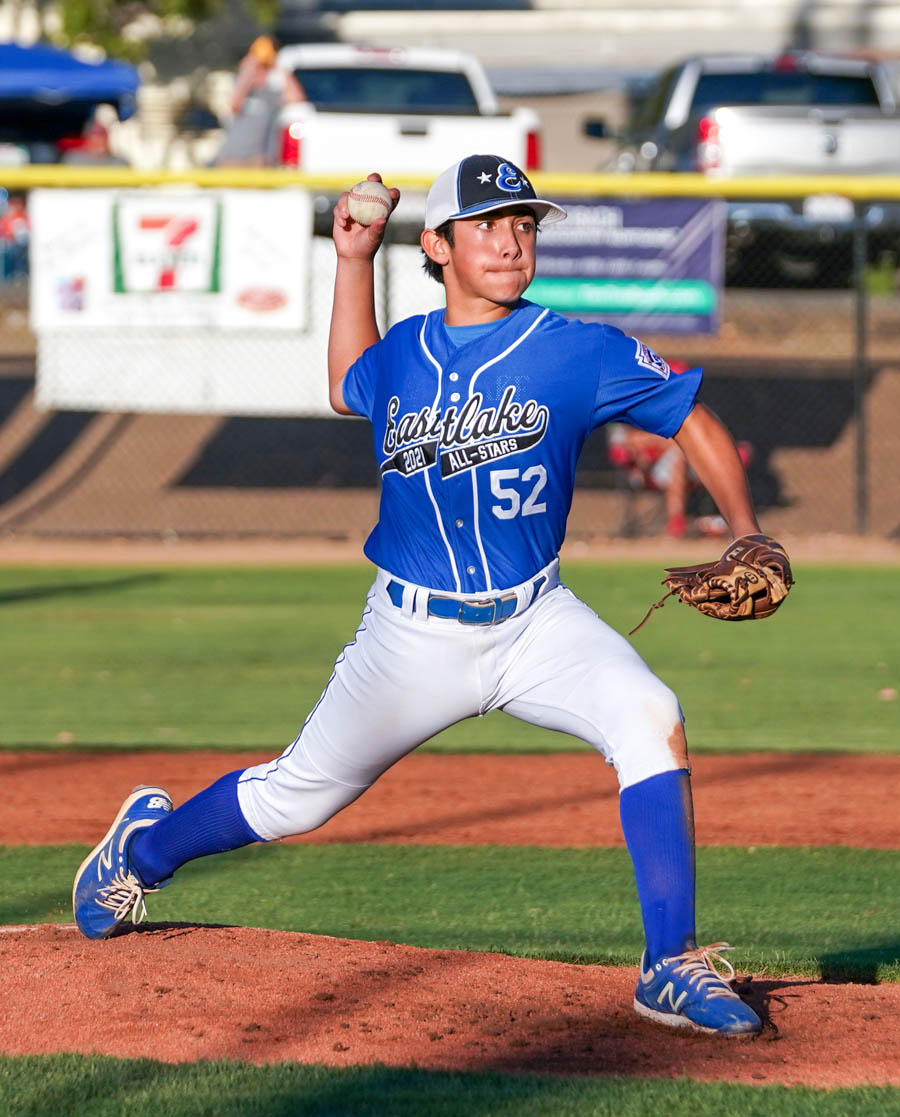 Eastlake blanked District 66 champion Spring Valley, 12-0, in its first game at the section tournament last Saturday before scoring a 5-0 shutout win over Fletcher Hills the following day.
Eastlake tallied four runs in the opening frame in Tuesday's championship game, wasting little time in dictating the pace of the contest. The District champs led 6-2 through four innings. Eastlake retired the side in the sixth inning to close out its second all-star tournament on top of the heap.
Nicolaus said it's been an entire team effort so far with backing from the league.
"What I love about this team is the camaraderie, the commitment they have to each other, the grit, humility and the passion each one of them brings to each practice and game," Nicolaus said. "We have so many outstanding players on this team it is hard to pick out individuals since they have all contributed in some fashion to their winning streak. Up and down the lineup we have great pitching, big bats and solid defense.
"Ethan Dang and Liam Lee have been lights out on the mound. Isaac Rodriguez, Nico Sanchez and Xachito MacFarland brought their big bats out during the D42 tournament. That is not to say the rest of the team haven't had highlights of their own. Many being on the base paths when those big bats exploded or making outstanding defensive plays behind our pitchers. Each player should be very proud of their play thus far."
Nicolaus also credited the team's coaching staff for its ongoing success.
"Our coaching staff has been outstanding as well," the ELL president said. "Randy Whitney and his two assistant coaches Mar Reyes and Josh Aguirre have put in a lot of time and commitment of their own to ensure the team's success."
As the team moved on to sectional play, it was much of the same explosive baseball. Nicolaus is hoping the trend continues, as does the path toward the hallowed fields in Pennsylvania.
"Our pitchers, bats and defense will continue to be lethal matchups for whatever team comes our way," Nicolaus said optimistically. "This team is ready. They are embarking on the road to make it as far as they can in the tournament one game at a time, one team at a time with Williamsport being the goal. It's something these players have dreamed about since Tee-Ball and since the season started. I can't say enough on how proud I am of the players and coaches thus far. They are focused and on a mission.
"Our league should be very proud of all of our players for a wonderful regular season but also postseason. All of our teams for TOC and All-Stars competed in D42 championship games this year. It just shows the level of baseball that our league is accustomed to."
Beat the heat
El Centro Little League hosted the 12U section tournament. But with Eastlake and Fletcher Hills both advancing to the championship game, the title contest was moved back to San Diego County.
Fletcher Hills defeated District 22 champion Holtville, 12-3, in its first game last Saturday before running into Eastlake the first time.
Spring Valley eliminated Holtville, 10-0, in a losers bracket game on Sunday to meet Fletcher Hills in another elimination game on Monday, with Fletcher Hills winning 14-5 to draw Eastlake in Tuesday's championship rematch.
MacFarland and Dang combined to collect the pitching win in Tuesday's section final, each allowing one run.
Lee, MacFarland, Dang and Cody Moseman all scored runs in the opening frame to get Eastlake rolling. MacFarland and Dang scored runs in the fourth inning.
Moseman rapped a double and single and scored one run while Lee also doubled and scored once.
Eastlake Little League 12U all-stars
Players: Levi Aguirre, Liam Lee, Nico Sanchez, Chango Whitney, Ethan Dang, Kike Perez, Myles Reyes, Elias Gomez, Luis De Leon, Cody Moseman, Xachito MacFarland, Andrew Nicolaus, Isaac Rodriguez
Manager: Randy Whitney
Coaches: Josh Aguirre, Mar Reyes
Fletcher Hills Little League 12U all-stars
Players: A.J. Hooker, Tyler Holmes, Joseph Coniglio, Reid Barnett, Ian Kunde, Dylan Lockwood, Nate McCance, Caleb Brierley, Brody Geringer, Logan Struck, Noah Westfall, Willie Barden, Lorenzo Leal, Holton Heinrichs
Manager: Jesse Brierley
Coaches: Don Holmes, Pat McCance
Name dropping
Barnett's father is Mike Barnett, who graduated from Bonita Vista High School in 1991 where he played football, basketball and baseball. His brother Tom played football and soccer and competed in track and field, and his sister Sara played soccer and, as a freshman, volleyball and track and field.
District 42 teams make it a sweep with four titles in section finals
While Eastlake Little League's 12U all-star team was cutting a swath through the competition in this year's California Section 7 championship tournament, the 10U and 11U all-star championship teams from California District 42 were doing their best impressions to follow that lead.
In championship games on Tuesday, Park View emerged victories in the 10U final over Rancho de Oro by a score of 5-3 while Park View's 11U all-star team blanked Rancho de Oro, 11-0, to keep advancing.
Imperial Beach Little League hosted the 10U section tournament featuring four teams: District 42 champion Park View, District 22 champion Sunbeam, District 41 champion Rancho de Oro and District 66 champion Lemon Grove.
In last Saturday's openers, Park View topped Sunbeam, 6-1, while Rancho de Oro defeated Lemon Grove by a score of 11-3.
Park View remained undefeated by clipping past Rancho de Oro, 7-1, in Sunday's winners bracket game while Lemon Grove kept its championship hopes alive with a 9-1 elimination win over Sunbeam later that afternoon.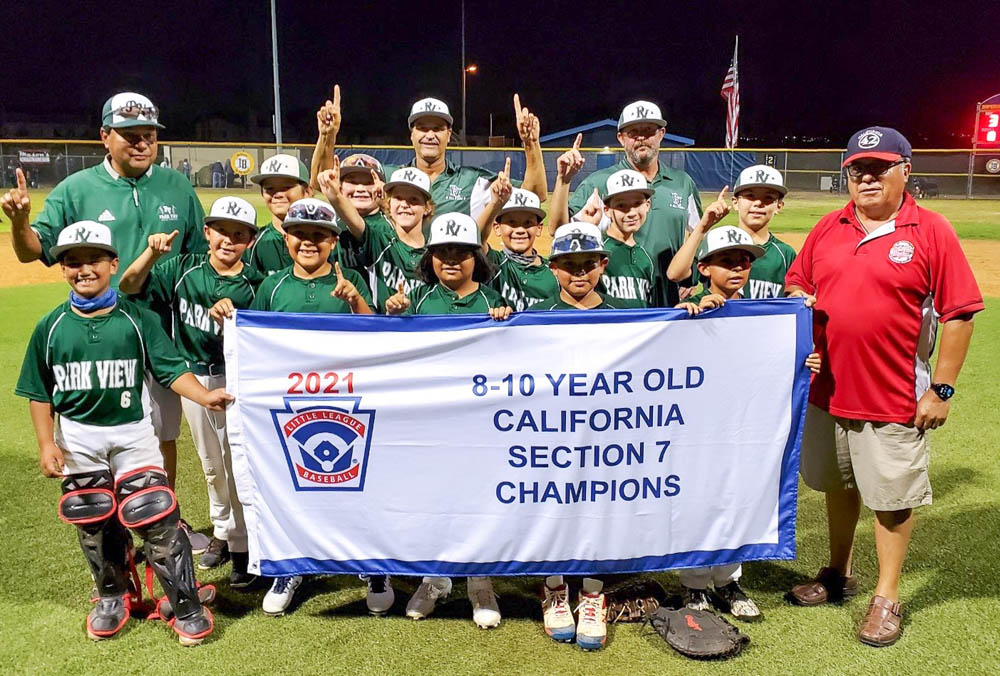 The win over Rancho de Oro propelled Park View into Tuesday's championship game while Rancho de Oro defeated Lemon Grove, 17-4, in Monday's elimination game to draw a championship rematch.
Park View (6-0) gets to remain home as District 42 will host the upcoming divisional tournament July 24 to Aug. 2 in IB.
California District 41 champion Rancho de Oro got off to a monstrous start in the 11U bracket at Jamul Little League with a 22-0 victory over District 22 champion El Centro last Saturday while Park View shut out District 66 champion Valley de Oro, 11-0.
Park View managed to tame Rancho de Oro's hot bats in a winners bracket game on Sunday while posting a 15-2 victory to earn a berth in Tuesday's championship game. Rancho de Oro downed Valley de Oro, 10-3, in an elimination game on Monday to rematch with Park View.
Park View (6-0) secured its berth in the Southern California divisional tournament hosted by District 55 Aliso Viejo Little League by lording over the field.
Park View remains red hot after blitzing through the district tournament with commanding wins over Southwest (19-0), Sweetwater Valley (9-0) and Eastlake (14-0).
Junior Division
The three-team sectional tournament, played at Spring Valley Little League, included representation from District 42 (Park View), District 66 (Spring Valley) and District 22 (El Centro).
Park View had to battle back from last Friday's 5-4 opening round loss to El Centro with three consecutive victories to claim the 14U banner.
El Centro defeated host Spring Valley, 21-11, on Saturday to advance to the championship round while Park View eliminated Spring Valley with a 14-6 victory on Monday.
Park View handed El Centro a 6-1 loss on Tuesday to force Wednesday's double-elimination game that the District 42 champions won 15-4 to advance to the Southern California divisional tournament at Santa Anita Little League.
Park View carries a 5-1 all-star record into Saturday's opener.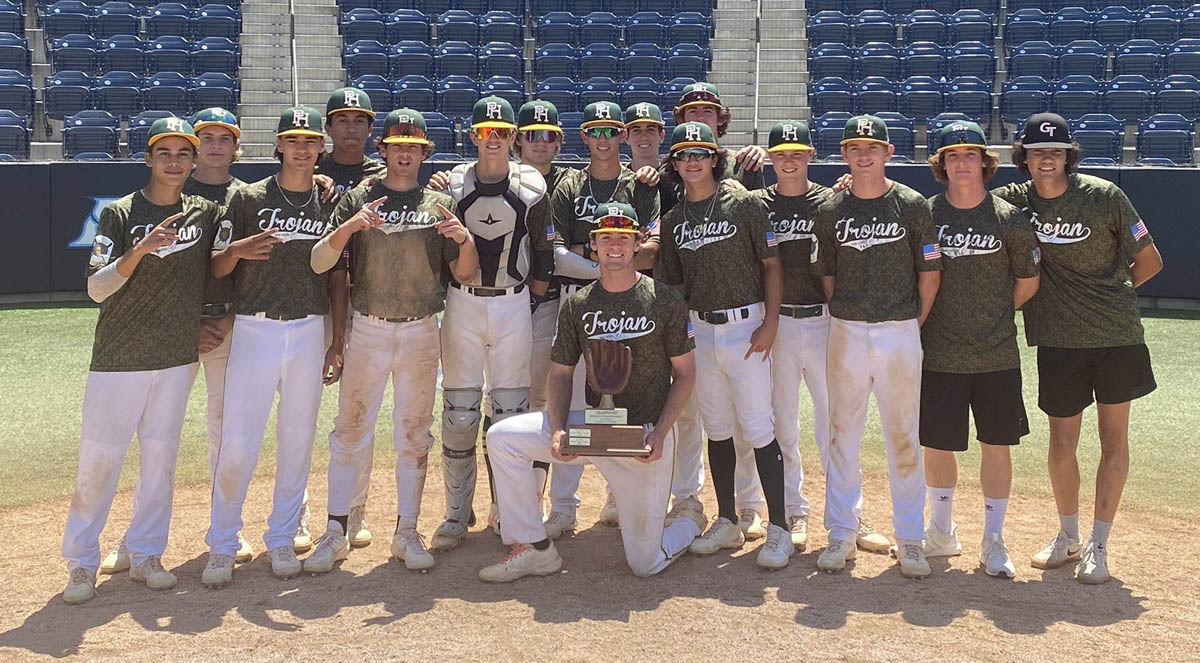 Post 460 Trojans score three-peat in 2021 American Legion baseball
American Legion Baseball is a big deal in other parts of the country and could be again in San Diego County if recent growth continues in the post-pandemic landscape.
After a several decades' absence in the San Diego region, American Legion Baseball returned in 2018 with 13 teams. The next year 22 teams took the field.
San Diego District 22, the local organizing body, went dark along with most youth baseball leagues in 2020 because of the COVID-19 pandemic. But interest did not wane: District play resumed in 2021 with 28 teams, though three teams had to bow out of the original schedule due to the extension of the high school season, which officially wrapped up June 26 with the Southern California regional championships.
American Legion aspires to further baseball opportunities for high school age players during the summer while also providing an outlet for person fitness, leadership qualities and "just to have fun," according to the organization. The league, which draws players in the 13-19 age group, provides district play. Post-season playoffs lead to a state championship, then a national championship tournament in Shelby, N.C.
Legion baseball, which serves as a low-cost alternative to travel ball, has sponsored posts in all 50 states and Canada. About 3,500 teams participate each year.
Notable alumni include Bob Feller, Ted Williams. Stan Musial. Roy Campanella. Yogi Berra, Warren Spahn, Frank Robinson, Johnny Bench, Reggie Jackson, Steve Carlton, Tom Seaver, Roger Maris and Phil Niekro, among many others.
Area 5/District 22 commissioner Peter-Rolf Ohnstad pointed out that 17 of the 25 teams that did participate in the league this summer had qualified for this year's section playoffs, thus creating a quality pool of talent.
Teams were placed in the Marine Division and Navy Division from computation of standings. League play started June 7 and ended July 6.
The Trojans entered this season as two-time district champions and cruised to a perfect 8-0 regular season record by regularly pounding teams on the diamond. Post 258 completed regular season play with a 98-18 scoring differential.
The Trojans didn't let up in the playoffs, though the team had to fight back in all four of its games to post come-from-behind victories.
There were other obstacles to overcome. Because the San Diego Unified School District would not let American Legion teams use their school facilities, the Trojans had to play all their scheduled games on the road.
The team's reward — and crowning achievement — was an undefeated 12-0 season following Sunday's 9-2 win over Post 146/760 in this year's championship playoff game at the University of San Diego's Fowler Field.
The next stop for the Trojans is the state championship tournament July 24-27 in Clovis.
"We are looking forward to the state tournament," head coach Sheldon Watkins said. "Each year we have gone, it's been a great experience. We have a much younger team this time, so it will be a great opportunity for them."
Three-peat
This year's Area 5 playoffs took place July 15-18 with an eight-team double-elimination bracket. Seven teams participated from District 22 with Post 229 from San Bernardino also included.
All games took place at USD.
Qualifiers included Post 258 Phantoms (Valhalla), Post 146/760 Vipers (Oceanside), Post 282 Cobras (Mission Bay), Post 820 Seals (Coronado), Post 149 Warthogs (Escondido), Post 492 Panthers (Hoover), Post 460 SONS Trojans (Patrick Henry) and Post 229 High Desert Devils (Adelanto).
In opening round games on July 15, the Trojans defeated the Panthers, 5-3; the Vipers shut out the Phantoms, 13-0, the Cobras defeated the Seals, 11-1 and the Warthogs defeated Post 229, 4-1.
In winners bracket games on July 16, the Trojans edged the Warthogs, 5-3, while Vipers edged the Cobras, 4-1.
In losers bracket games on July 16, the Phantoms eliminated the Seals, 10-8, while the Panthers shut out Post 229, 3-0.
In the winners bracket final on July 17, the Trojans downed the Vipers, 7-3.
In losers bracket games on July 17, the Phantoms remained in contention with a 4-3 win over the Warthogs while the Cobras topped the Panthers, 9-6.
That left the Phantoms and Cobras to duel it out in the losers bracket semifinal later that day, with the Cobras eliminating the Phantoms, 6-5, to advance to the losers bracket final the next day against the Vipers.
The Vipers won the opening game on July 18 by a score of 4-2 to eliminate the Cobras and get a second shot against the Trojans.
The Trojans claimed their history-making three-peat in in the championship game on July 18 but it took some work to accomplish.
The Vipers led 2-0 early before the Trojans put one run across in the bottom of the first inning before adding another run in the second inning to tie the score. The Trojans scored the final seven runs in the game.
Nolan Kluge and Talin Gardini both had two hits for the Trojans while Zach Morales and Brady Hull both had two RBI. Travis Van Dyke, an incoming junior at Patrick Henry, pitched a full seven innings with 19 first-pitch strikes and eight strikeouts overall while scattering five hits.
The Vipers committed four errors in the title game loss.
Comeback kids
Gardini had two of the Trojans' eight hits in the opening-round win over the Panthers, who led by scores of 1-0 and 3-2 in the game. The Panthers scored the first run in the game before the Trojans tacked on single runs in the third, fourth and fifth inning before capping the win with two runs in the sixth inning.
Gardini and Drew Davis both recorded four strikeouts on the mound while sharing pitching duties in the game.
The Vipers built an early 3-0 lead in the first playoff meeting with the Trojans before Post 460 tied the game, 3-3, with a three-run rally in the fourth inning and produced the winning runs with a four-run rally in the sixth inning.
Noah Filson drove in three runs while Morales had two RBI in the win over the Vipers while Davis pitched a complete game with 19 first-pitch strikes while scattering eight hits.
The Trojans' lineup also included Eddie Gomez (shortstop), Ryan Ellis (pitcher), Jack Giordano (catcher), Bryce Andersen (left field), Jackson Goffar (third base), Dominic Benami (center field), Ryan Ruch (right field), Jared Wangler (shortstop), Colin Miller (second base), Jonah Stepner (center field) and Dylan Dyresen (pitcher), Garrett Mellinger (pitcher) and Connor Rice (left field).
Ellis earned the Eastern League Player of the Year award as a junior for Patrick Henry (12-3 in league, 20-10 overall) during the high school season while Dyresen, a junior, and Max Shabestari, a senior, both earned first team all-league recognition. Freshman Jeremiah Vargas, sophomore Brady Hull and senior Andrew Gauna all were named second team all-league while honorable mention awards went to Eddie Gomez (freshman), Gardini (freshman) and Kluge (junior).
The Eastern League champion Patriots received the fifth seed in the Division II CIF playoffs but were upset, 2-1, in the play-in round by the 12th-seeded Vista Panthers.
Staying alive
The Phantoms, playing under manager Ryan Wheeler, finished regular season play 9-1 and completed the playoffs 2-2 to post an overall 11-3 summer season.
After being shut out, 13-0, by the Vipers in the opening playoff game, the Phantoms rebounded with a pair of wins to remain in championship contention. The Phantoms tamed the Seals by a score of 10-8 in a game that featured a combined 26 hits and 18 runs before scoring a dramatic 4-3 win over the Warthogs in eighth innings.
Nate Molton had three hits for Post 258 against the Seals while David Gordon drove in three runs. Riley Hughes had four hits and two RBI against the Warthogs.
Hughes pitched 5.1 innings against the Seals with six strikeouts while Gordon (six innings) and Tanner Lough (two innings) combined to post eight strikeouts (seven by Gordon) in the extra-inning victory against the Warthogs.
The Phantoms never led in their final playoff game against Post 282. The Cobras led, 6-0, after two innings before Post 258 made it interesting with five runs in the top of the fourth inning. Neither team scored another run, and the score ended that way as an otherwise standout season ended for the Phantoms.
Kuba Polak and Julian Jerjees both had two hits in the season finale while Hughes had two RBI. Moulton pitched 4.1 innings with eight first-pitch strikes.
American Legion Area 5 Championship Scoreboard
Thursday, July 15
Vipers 13, Phantoms 0
Cobras 11, Seals 1
Warthogs 4, Post 229 A-Town Select 1
Trojans 5, Panthers 3
Friday, July 16
Phantoms 10, Seals 8
Panthers 3, A-Town Select 0
Vipers 4, Cobras 1
Trojans 5, Warthogs 3
Saturday, July 17
Phantoms 4, Warthogs 3
Cobras 9, Panthers 6
Trojans 7, Vipers 3
Cobras 6, Phantoms 5
Sunday, July 18
Vipers 4, Cobras 2
Trojans 9, Vipers 2