Sweetwater High School's boys basketball team held its annual Hall of Fame induction ceremony during halftime of last Saturday's non-league game against the visiting Morse Tigers.
The latest inductees included Wesley Saleaumua (1982), Nate Major (1998), Victor Edwards (1976) and C.J. Cadua (2015).
Saleaumua attended the University of Utah and played football there from 1982-84.
Major chose a career in the Air Force while Edwards, who still ranks among the program's top 15 all-time scorers, played at Chico State.
Cadua, the point guard on the school's 2013-14 team that posted a perfect 25-0 regular season record and advanced to the CIF finals, is still playing basketball in the Philippines.
"All four were phenomenal players at Sweetwater," current SuHi head coach Jesse Aguirre said.
This is the sixth year that Sweetwater has held its Hall of Fame game.
This year's Red Devils varsity team rewarded their alumni on hand by defeating the Tigers, 79-77, in overtime. It was the second consecutive overtime game for Sweetwater, which tipped Hilltop 68-63 the night before in a South Bay League game.
The pair of wins allowed the Devils to remain undefeated in league play at 5-0 and improve their overall record to 11-8.
Senior Brandon Robles scored 36 points and had 16 rebounds against Morse and 24 points and 15 rebounds against Hilltop.
Ariene Velasco had 16 points against Morse and 14 points and six rebounds against Hilltop.
Sophomore Damian Monge and senior Lai Zumstein led the Lancers (9-12 overall, 3-2 in league) with 16 points apiece in the OT loss.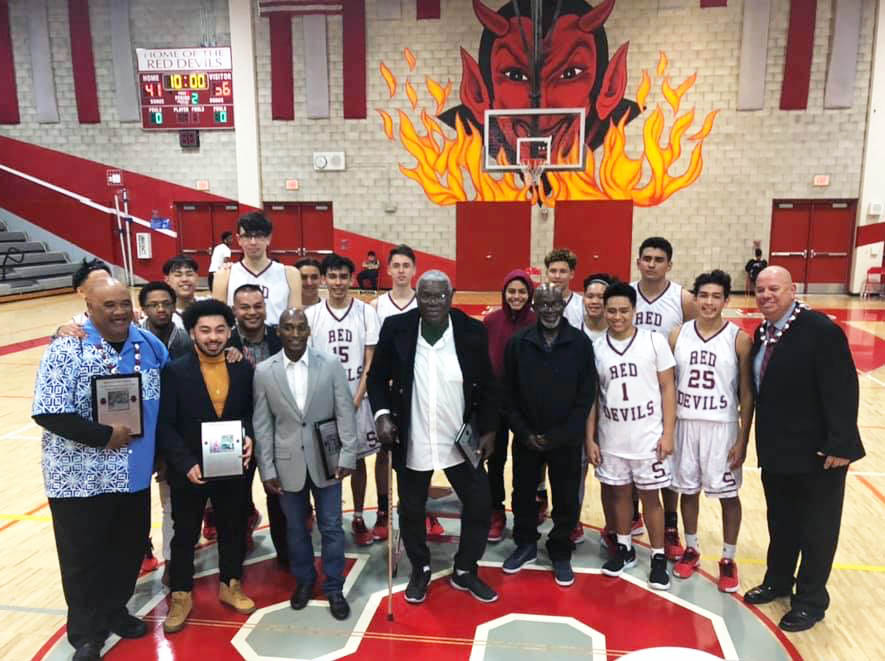 Cougar country
The San Ysidro Cougars (11-8 overall) are off to a 4-0 start in South Bay League play after blowing past Southwest and Chula Vista by scores of 106-58 and 104-35, respectively, in back-to-back games on Jan. 15 and Jan. 17.
Freshman Jurion Dixon led the Cougars with 50 points in the win over Southwest while senior teammate Kailen Rains dropped in 38 points. San Ysidro led 61-35 at halftime.
Rains poured in 49 points while Dixon tacked on 44 points in the win over Chula Vista.
The Cougars previously defeated Hilltop, 97-57, on Dec. 18 and Mar Vista, 95-47, on Jan. 8.
Freshman sensation Mikey Williams, who earlier this season set a new section single-game scoring record with 77 points, has played in 17 of the team's 19 games so far. He leads San Ysidro in season scoring with an average of 33 points per game.
Williams is the least of the worries for opposing teams, however.
Dixon follows with a 22.8 scoring average while Rains is averaging 20.2 points per game.
The Cougars entered the week ranked first among the section's Division III teams ahead of Coronado (11-9), Eastlake (10-8) and Grossmont (10-7).